Green Party of Canada (GPC) Leadership Race
BREAKING NEWS: The NIPR EDA is going to be hosting one-on-one Zoom sessions with the leadership contestants in September! Some dates have been confirmed; others have yet to be. Stay tuned to the NIPR website or Facebook page for updates.
---
Mark Your Calendars for this debate coming up in September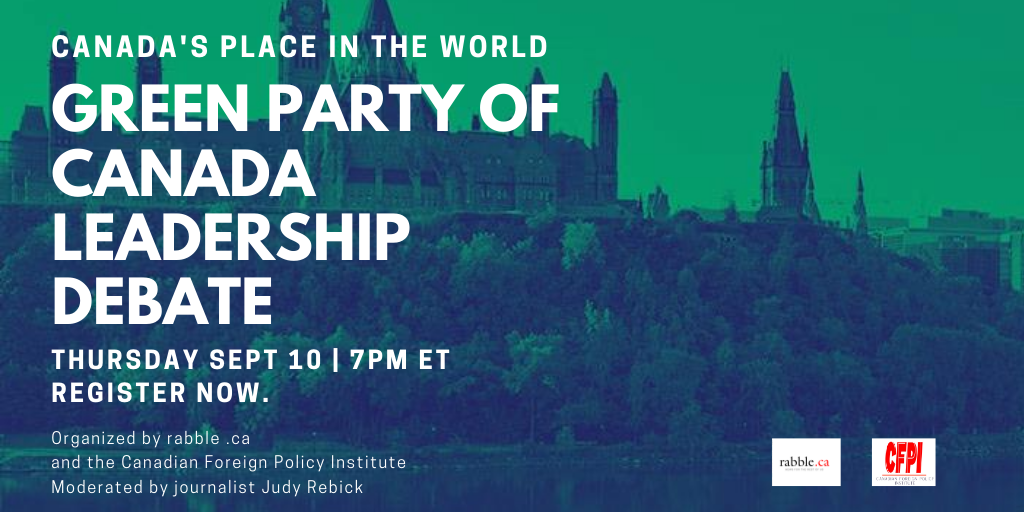 The Canadian Foreign Policy Institute is pleased to announce they and @rabbleca are co-hosting a @CanadianGreens leadership debate on foreign policy. Moderated by journalist @judyrebick.
Join them for "Canada's Place in the World." Thursday, September 10 at 4 PM PDT. Register now! https://bit.ly/3fpzXND
---
There are nine approved candidates. Have a look at the GPC website for information on leadership race.  
You must be a GPC member by September 3, 2010, in order to vote for your leadership choice. Online voting will be open from September 26, 2020 to October 3, 2020 and will be available to all eligible voting members.
Dave Hunter, from the North Vancouver EDA, has created a very useful document to help you with all kinds of information about the leadership contestants and their campaigns. Dave has made a commitment to keep the information as up-to-date as he can. If you like one-stop shopping, check it out. PORTAL to GPC Leadership Information July 15, 2020
You can also follow the contestants directly by signing up to their mailing lists. It's the best way to follow their campaigns and get the info you need to cast your vote this fall.   SIGN ME UP FOR THEIR MAILING LISTS!
Want to directly support your favourite contestant's campaign? You can make a donation to the contestant of your choice here:   DONATE
---
Racism, Anti-Semitism, and Trans/Homophobia are alive and well
There have been disturbing instances of hatred directed at some of the GPC leadership contestants. Amita Kuttner, Annamie Paul and Meryam Haddad have all been subjected to varying forms of verbal attacks. During a townhall on July 21, the vilest of language was directed at Annamie Paul and Meryam Haddad. While it is impossible to be 100% certain that the perpetrators weren't Green Party members/supporters, the GPC has checked the meeting registration information of the perpetrators against Green Party membership lists, and it seems the people are not GPC members. The incident has also been referred to the RCMP. You can read GPC's statement on this incident here.
---
#TheOtherLeadershipContest
Picture this: Erin O'Toole and Peter MacKay doing a town hall together to discuss - not argue, but discuss in a collaborative, collegial way - what is best for their party, for Canadians, and for the world. Or Erin O'Toole and Leslyn Lewis. Or Peter MacKay and Derek Sloan. You get the idea. 
The Green Party leadership race has taken an interesting turn. Dr. Courtney Howard is having a series of Changemaking School webinars at which she invites a different leadership contestant and other experts in their field to join her. Each week has a different topic and different panelists. David Merner is also doing events with other leadership 'competitors.' There are probably other instances; these are just a couple that I know of.
This might never have happened were it not for COVID-19. The fact that the leadership contestants are more or less confined to the virtual space means that they can do things differently. And that's what the Green Party of Canada is all about - doing politics differently.
That's not to say there aren't differences among the contestants. There most definitely are and I sometimes wish we could get more of an actual debate going around some issues, but with nine contestants that's just not really possible. Instead we're seeing people who are running against each other working together to share skills and knowledge, to create a leadership field that is increasing in depth as time goes on. Truly a horse of a different colour as compared to most political parties.

(For the yellow horse, think orange.)
---
Upcoming leadership campaign events
All the leadership contestants are holding virtual events, and some of them are holding regular 'office hours.' One of the benefits of COVID-19 has been that we can attend events all over the world in a way we would never be able to do in-person. So, all the leadership contestants' events are available for any of us to attend, should we so wish. Below is a list of events in August. NOTE: This is an incomplete list. It is offered in the spirit of saving you some legwork, so to speak. However, please check with the individual contestants' websites or Facebook pages for a complete listing. NOTE: These listings are in no particular order.
Meryam Haddad
Amita Kuttner
Meet & Greet with SGI Greens, and special guest Elizabeth May, Wednesday, August 5, 7 pm PDT
Planetary Health in Action with Dr. Courtney Howard, Thursday August 6 at 4pm PDT
Meet & Greet with Guelph on Wednesday August 26 at 4pm PDT
Ten Forward, on Wednesdays at 5pm PDT, where we discuss different topics in our platform. These are usually set up for registration immediately following that week's event.
The most current and accurate listing of upcoming events is amitakuttner.ca/events.
Annamie Paul
Q & Annamie every Monday, 3:00 pm Pacific time, on Zoom
Meet Annamie with Nanaimo - Ladysmith EDA, Tuesday, August 4, 2020, 6:30 pm Pacific time
Meet Annamie with Cowichan - Malahat - Langford EDAs, Sunday, August 9, 2020, 2 pm Pacific time
Keep an eye on her Events page for details.
David Merner
Zoom Get Together every Saturday, 11:00 am Pacific time
Economy of Well-Being with Dr. Courtney Howard & Dr. Trevor Hancock, Thursday, August 13, 4 pm Pacific time
Legalization from a health perspective with Dr. Courtney Howard, Tuesday, August 18, 4 pm Pacific time
The Future of Canada with Judy Green, Thursday, August 20, 4:00 pm Pacific time
Go to the Events page for details.
Judy Green 
Meet Judy Green, Saturday, August 1, 4:30 pm Pacific time
Green Tea with Elizabeth May, Friday, August 7, 4 pm Pacific time
Meet and Greet, Tuesday, August 11, 4 pm Pacific time
Kitchener/Waterloo Q&A with Judy, Wednesday, August 12, 4 pm Pacific time
Fredericton Greens Meet & Greet, Thursday, August 13, 4 pm Pacific time
Kootenay-Columbia Meet and Greet, Wednesday, August 26 6:00 pm Pacific time
Green Tea with Elizabeth May, Friday, August 28 4 pm Pacific time
Dimitri Lascaris
Ask Dimitri Anything, Zoom sessions on August 2, 6, 9, 13, 16, 20, 23 and 27. See his Events page for registration links.
Dimitri is holding a number of in-person events in Ontario during the month of August.
Glen Murray
Zoom Drop-ins
Wednesday, August 05, 2020 at 1:00 PM Eastern Time 
Monday, August 10, 2020 at 7:00 PM Eastern Time 
Monday, August 17, 2020 at 12:00 PM Eastern Time 
Wednesday, August 19, 2020 at 7:30 PM Eastern Time 
Wednesday, August 26, 2020 at 1:00 PM Eastern Time 
Monday, August 31, 2020 at 3:00 PM Eastern Time 
Planetary Health in Action with Dr. Courtney Howard, Thursday, August 20, 2:30 pm Pacific time
Keep an eye on his Events page for updates.
Andrew West
Keep an eye on his Events page for updates.
Dr. Courtney Howard
Power Parliament/Power The Table, with Dr. Amita Kuttner, Thursday, August 6, 4 pm Pacific time
Economy of Well-Being with David Merner, Thursday, August 13, 4 pm Pacific time
Planetary Health in Action #6, with Glen Murray, Thursday, August 20, 2:30 pm Pacific time
Keep an eye on her Events page for updates.
---
Watch this
On July 8, Maureen Bodie from West Vancouver-Sunshine Coast-Sea to Sky Country hosted a virtual event with James Shaw, New Zealand's Climate Change Minister and co-leader of New Zealand Greens and Elizabeth May, MP and Parliamentary Leader of the Green Party of Canada to discuss the difference a small number of elected Greens can make in passing progressive legislation. Didn't catch it at the time? Check it out here.
---
Green MPs Working For You
Watch Elizabeth May in Parliament, giving a fulsome response to the Liberal government's economic snapshot. She addresses many issues, including the gendered economic consequences of COVID-19 and the government's response to it, the lack of economic support for people with disabilities. And, as always, she manages to do it in a positive, collaborative manner. She quotes Brian Mulroney as saying, "Incrementalism breeds increments" to support her calls that climate action cannot wait for incremental action. In her inimitable fashion, she says she finds reason for optimism in the situation Canada finds itself in because of the strong position the country was in before COVID hit. Elizabeth May also addressed the economic snapshot in her Good Sunday Morning of July 5. That has a lot of reference links in it as well for people who like to do deep economic dives.
To stay up to date on everything that Elizabeth, Paul and Jenica are standing up for in the House and in their communities, check out the caucus week in review.
Elizabeth May has had a lot of speaking time in the House, and held press conferences.  Find some of them at these links.
---
GPC Federal Council: Policy Process Committee
The Policy Process Committee (PPC) plays an important role in our member-driven policy development process by helping members to craft strong policy proposals and facilitating policy deliberations.
The PPC's purpose is not to suggest or to draft policy itself, but to assist party members in doing so, and to work with the Executive Director to develop plans for the future of the policy development process. The PPC is also mandated to oversee the updating of our existing Policy Book into a format that is clear, relevant, and consistent. 
I believe the deadline for applications has passed. However, there was a comment in the GPC Federal Council meeting on July 26 that there weren't many responses, so if you're interested you could write to info@greenparty.ca and see if you could be referred to the relevant Committee Chair for consideration.
---
Must be spring! Green EDAs are sprouting all over Canada
Check out all of the new GPC EDAs that have formed since the 2019 election. Nothing official yet because of the COVID-19 slowdowns at Elections Canada but we look forward to having all of them up and running soon. Way to go, Greens! [From the June GPC EDA Insider]
Cardigan in P.E.I. launched their EDA in December inspired by a third place showing (13.8 per cent) by Glen Beaton in the October election.
Egmont (P.E.I.) had their founding meeting February 12 following Alex Clark's successful campaign earned him almost 20 per cent of the vote.
The founding meeting for Dartmouth-Cole Harbour (N.S.) was also a celebration. Their vote percentage almost trebled to 9.9 per cent in 2019.
Super volunteer Justina Robertson has come forward to start a new EDA in Carlton Trail-Eagle Creek in the heart of Conservative-dominated Saskatchewan.
Following Luc Joli-Coeur's strong campaign last year, he and his team have joined other volunteers to found the Quebec City EDA and grow the Green movement in the region. 
The Longueuil-Saint-Hubert EDA held its founding meeting. Former MP Pierre Nantel won 11.3 per cent of the vote in 2019.
After Gaël Chantrel tripled the vote in Laurentides-Labelle last year, supporters and volunteers have founded an EDA. 
The Joliette EDA had its founding meeting, with 2019 candidate Érica Poirier as the new CEO.
Alessandra Szilagyi, also a candidate in 2019, founded the EDA in Saint-Léonard–Saint-Michel.
The Niagara region has always been an area with strong Green EDAs. Niagara Centre is the latest addition, coming off a successful 2019 campaign where they doubled their vote share.
Thunder Bay, home to a former Green MP (Bruce Hyer) and now the city's second EDA is awaiting confirmation of registration. 
Windsor West was a Green hot spot in 2019 with a new group of volunteers coming forward to start organizing. Starting an EDA was the next big step to keep the momentum going!

Elaine Kennedy has been an amazing, long time volunteer in the Stormont Dundas South Glengarry area. In one of the toughest ridings in the country, having a Green EDA will put the other parties on notice that the Greens cannot be ignored. Well done Elaine! 

After more than doubling the vote in Vancouver South, Judy Zaichkowsky's great campaign successfully held a founding meeting to officially found the EDA.
---
Did you see this?
BC Green MLAs played an important role in the Legislature again this month 
Green MLAs did not support NDP proposed amendments for Bill 17 and Bill 22 and offered amendments for improvement. It is now up to the government to decide whether to call the bills for debate in the House.
Bill 17 - Clean Energy Act Amendment
The BC Green Caucus was looking for more First Nations engagement and a strong definition for "clean energy" in order to pass all of the amendments contained in Bill 17, Clean Energy Amendment Act. 
"Many Nations have seized on economic development opportunities linked to clean energy generation, and we feel strongly that they need to be given a clear pathway forward that honours the time and investments that have been made." Interim leader Adam Olsen, MLA for Saanich-North and the Islands and a member of Tsartlip First Nation.
Both Green MLAs felt the section on self sufficiency required additional consultation with First Nations and impacted parties and that in this first legislative session since the passage of the Declaration on the Rights of Indigenous Peoples Act, they see this as an important opportunity to do things differently. 
For more info:
Media release BC Green Caucus
Greens showing signs of 'physically distancing' from NDP
Bill 22 - Mental Health Amendment Act
Bill 22 allows for the involuntary detainment of youth who have been admitted to an emergency room following a drug overdose. The detainment, referred to as "stabilization care" could be authorized to last two to seven days.   
The BC Green Caucus recognized that "stabilization care can be a necessary and appropriate option in certain cases" but expressed concern about the "disproportionate harm the policy could have on Indigenous youth." (MLA Adam Olsen)
BC Greens proposed pausing the legislative process at Second Reading in order for substantive concerns that have been raised to be addressed.
"When evaluating the challenges facing people who struggle with drug use in BC, involuntary detainment is not what the vast majority need in order to recover and heal. What they need is culturally appropriate, youth-specific and youth-friendly voluntary detox, intensive case management, day treatment and community residential treatment - accessible and available where they are, when they are ready." (MLA Sonia Furstenau)
For more info:
Media release: BC Green Caucus
Bill 22 Rescue operation not necessary if B.C. gov't had consulted in first place
---
Leadership Contest
Leadership 2020 is really starting to heat up! We now have three candidates, with outstanding credentials. Check out their websites for more details and be sure to mark the Official Leadership Debate, September 1 on your calendar.
              Cam Brewer                                    Kim Darwin                         Sonia Furstenau 
BC Greens staff are keeping us all informed about any upcoming debates in addition to the official debate on September 1 - check their Events page. 
Keep in mind:
Details for becoming a member or supporter in order to vote
Deadline to become a member or supporter for voting by phone: August 21, 2020
Deadline to become a member or supporter for online voting: September 2, 2020
And most importantly - VOTE! - September 5, 1:00 PM- September 13, 2020, 11:59 PM
---
SIGN UP for updates from your local Riding Association so that we can stay in touch!

(Privacy rules require that you actively opt in to be able to hear from us.)
Courtenay-Comox https://www.bcgreens.ca/crc#signup
Powell River-Sunshine Coast https://www.bcgreens.ca/por#signup
VOLUNTEER for Courtenay-Comox here https://www.bcgreens.ca/volunteer_ra?riding=20
VOLUNTEER for Powell River-Sunshine Coast here https://www.bcgreens.ca/volunteer_ra?riding=16
Emancipation Day, August 1
"…in 1833, the Slavery Abolition Act (also referred to as British Imperial Act) brought an end to chattel slavery throughout the Empire, coming into effect on August 1, 1834 in Britain, Canada, and several other colonies, and 1838 in parts of the Caribbean and elsewhere. Various other slavery resistance events had taken place in other territories, all in anticipation of or inspired by the Act." Read more here and here and here. 
There is a Parliamentary petition to have Emancipation Day proclaimed as a Canadian holiday. The petition is open until August 22, 2020. Sign it here. 
As Greens, "oil and gas" is a four-letter word. What if that changed? What if "Canadian Oil and Gas" was secure, localized, carbon neutral, and affordable? Sound crazy? Carbon Engineering, a Canadian company, is now able to produce carbon neutral synthetic fuel in Squamish. Using an innovative process called "Air to Fuels" technology, Carbon Engineering captures carbon directly from the air and produces a fuel that can power our vehicles, manufacture our products, and fuel our future. There is no catch; this is the real deal. This could be the key to the Just and Fair Transition for oil and gas workers in Canada.
Our EDA has organized a focus group, examining how this technology could bring true economic, environmental, and societal growth to North Island-Powell River. Imagine a future where our communities lead the necessary change to a carbon-neutral world. Imagine North Island Powell River leading a movement toward carbon neutrality with proven technology. This can be a reality.
If you're inspired to help, contact us at northislandgreens@gmail.com. Tell us your name, give us a way to get in touch, and write a short summary with your background and how you could help. Here are some of the skills we're looking for:
Research & Data Analysis
Government/ Industry contacts
Communications (Digital)
Writing & Editing
Videography
Oil and gas Industry Experience
We look forward to hearing from you!
Tim Larsen, one of our contributors, wrote a letter to Catherine McKenna back in January. Since the 2019 election, Ms. McKenna has been the Minister of Infrastructure and Communities. The letter was an idea for a green infrastructure project in our riding and "an investment in that would pay great returns in our country's attack on climate change." "BC Ferries has embarked on a program to reduce the environmental impact of its fleet. The newest four ships to be added will be diesel-electrics that are capable of being totally electric powered. At this time shore power to charge these vessels has not yet been built. Once these facilities have been built, they will take advantage of our Province's ample renewable hydro-electric generated power." Read more.
---
LETTERS – It's appalling that the aquaculture industry is getting free money to clean up its own mess
Contributor Pat Carl and newsletter editor Megan Ardyche both have Letters to the Editor in the Comox Valley Record in July. Pat's letter is here and Megan's is here. Both were in response to a couple of articles in the Record earlier in July. The first article told us that the BC Shellfish Growers Association (BCSGA), headquartered in Comox, is receiving $350,000 from the Federal government to clean up its own garbage, specifically plastics, over the next two years. Another article about Gord Johns, MP for Courtenay-Alberni, details how 'ecstatic' he is that Fisheries and Oceans Canada (DFO) is giving the industry $8.3 million federal from a Ghost Gear Fund to clean up "lost and abandoned fishing gear, which is one of the largest contributors to marine litter." Johns' only regret "is the size of the fund." In other words, Johns wishes more taxpayer money could be given to the industry to clean up its own garbage. Never mind that, without a cent of taxpayer money, Denman Island volunteers were miraculously able to clean up at least eight tonnes of debris in 2019 alone. So…the industry gets our money to clean up its own garbage. As Pat says, "Where exactly do I queue-up to get taxpayer money to clean up my garbage?"
In Profiles in Green, we will showcase individuals (or businesses) who are leaders in the personal or economic changes needed to ensure a livable future for the next seven generations. If you know of individuals (or businesses) who may be candidates for Profiles in Green, write to us at northislandgreens@gmail.com. We'd love to profile individuals and businesses from throughout the riding.
They wanted to buy a forest to save it from loggers. The world chipped in.
In this issue, we're bringing you an article about Lannie and Ralph Keller from Read Island, near Cortes and Quadra. The Kellers were successful in buying a forest block and saving it from being clearcut. Read more.
"This environment is so incredible…It's special, and it deserves protection," Read Island resident Lannie Keller says of her tiny B.C. coastal community's efforts to purchase and preserve its rainforest habitat…"As soon as you clearcut it, lay it all to waste and destroy the wildlife habitat, nesting sites and the wetlands, it threatens us personally. Whether it's British Columbia or Brazil, a clearcut has become the international symbol of the destruction of the environment."

Lannie and Ralph Keller sit in the forest in Lot 302 on Read Island that was saved from being clearcut by their tiny coastal community. Photo: Rochelle Baker.
Check out NIPR's calendar of events on a regular basis. You may see upcoming events there before a newsletter goes out.
We're always looking for events happening in our riding of interest to Greens wherever they live. They don't have to be Green events. As you'll see from the calendar, many of the events showcased here have to do with issues that matter to us as citizens, no matter what our political party of choice. And many are events being put on my groups whose work we as Greens support. If you know of events in your community that you think might interest Green supporters, write to the NIPR Greens and let us know. Please provide as much information as possible, with links to the relevant Facebook or event page.
Of course, the coronavirus, COVID-19,  is wreaking havoc with so many plans. All in-person events are cancelled for the time being. But that doesn't mean your local Greens are going to be slacking off. And check out the Green Party of Canada's Events calendar for GPC webinars that are coming up.
Greens are defined by a personal responsibility to the community, the quality of decisions we make, and our ability to defend those decisions. We are not responsible for the success or failure of other political entities, and Greens are committed to earning the respect of voters.
Official NIPR email:
northislandgreens@gmail.com
Your NIPR Executive:
Megan Ardyche, Comox
Blair Cusack, Courtenay
Mark de Bruijn, Courtenay
Susan Holvenstot, Courtenay
Susan Short, Powell River
Carol Thatcher, Courtenay
Chris Tithecott, Campbell River
Jay Van Oostdam, Comox
© 2020 Greens of North Island - Powell River  Approved by the official agent.