Must Reads from Last Week
BC Electoral Reform Referendum
Understanding the referendum – information sessions
Courtenay
DATE/TIME: November 12, 4:30 pm
LOCATION:   Courtenay Public Library
 DATE/TIME: November 15, 2:30 pm
LOCATION:   Courtenay Public Library
 DATE/TIME: November 17, 2:30 pm
LOCATION:   Courtenay Public Library
---
The death of governing whiplash
"Imagine, if you will, elected officials from one party cooperating with the elected officials of another party in order to develop long-lasting legislative priorities that stand the test of time. And then imagine, if you will, how many taxpayer dollars are wisely spent if legislative priorities are developed based on the best ideas from all parties." Read more.
---
"Thanks but no thanks" to a challenge to Fair Vote Kamloops to publish articles in support of first past the post
This is a great rebuttal to the accusation that Fair Vote Canada/BC is 'biased' and 'partisan' because it doesn't publish the perspective of the opponents of proportional representation. Read more.
---
This could be the most progressive country on earth
New Zealand uses proportional representation to elect their politicians. Now they're setting a great example of how politics can be done differently. Read more.
Excerpt: "Watched by her partner and their then 4-month-old daughter, [Prime Minister] Ardern pledged New Zealand would be "a kind and equitable nation where children thrive, and success is measured not only by the nation's GDP but by better lives lived by its people."
Locally
The air we breathe
The SAGE (Sustainability Action Group for the Environment) cordially invites you to join us for an informational evening. Our guest speaker will be Jennell Ellis of Breathe Clean Air CV. She will discuss the impact of smoke be it from wood stoves or wildfires on our health and the steps we can take to improve our Air Quality in the Comox Valley. Admission is by donation to SAGE.
DATE/TIME:  Tuesday Oct.30 at 7 PM
LOCATION:    Comox United Church, Beach Drive, Comox
---
Mid-Islanders for Justice & Peace in the Middle East (MIJPME): Critique and Solutions for a Canadian Foreign Policy that is Just
Political Writer Yves Engler returns to Courtenay to sign and read from his latest book
DATE/TIME: November 5, 6 pm
LOCATION:   Courtenay Public LIbrary
Provincially
Municipal elections in BC
Green, green the grass is green on the far side of the hill, as the old song goes, especially in Vancouver as Green Party candidates posted big numbers in BC's largest city. Not only are they represented on Vancouver City Council, but also on the Parks Board and School Board. In fact, in all three, Greens were the top two vote-getters. Not only that, but the mayor-elect, Kennedy Stewart, was arrested this summer alongside Elizabeth May protesting the Trans Mountain pipeline on Burnaby Mountain. I swear, it's the Green Wave. Finally. Read more.
---
Site C
Part 1: Feast for the Peace
DATE/TIME: Saturday, Nov 3rd, 5:30 to 7:30 pm
LOCATION:   Notional Space, 1523 East Pender Street in Vancouver
Doors open at 5pm
A time to gather and discuss the court's decision regarding an injunction to halt BC Hydro's construction of the Site C dam. This is a potluck Feast, so bring some food to share! (Finger foods, appetizers, or anything else that is easy to share.)
This is also a fundraiser so bring your chequebooks and/or cash and check out the silent auction! (All proceeds to support the court fees incurred by West Moberly and Prophet River First Nations.)
Part 2: Site C injunction denied but trial ordered
"As news broke on October 24 that the BC Supreme Court has denied the injunction sought by the West Moberly and Prophet River First Nations, we are alarmed that this endangers vital areas of the Valley — places of crucial cultural, spiritual, historical and ecological significance.
The court was clear, however, that the Treaty rights challenge must be heard before the dam is completed." Read the response from the West Moberly and Prophet River First Nations.
---
Dangerous precedent: Petronas subsidiary gets free pass after building unlicensed fracking dams
"In a decision without precedent in its 25 years of existence, British Columbia's Environmental Assessment Office (EAO) has told Progress Energy that two massive unauthorized dams that it built will not have to undergo environmental assessments.
The decision comes after the company made an audacious request to the EAO to have the two dams declared retroactively exempt from review—a request that was quietly granted by the Province's self-described "neutral" environmental regulator on July 17… Since the EAO's inception, there had never been a case where a company built not one, but two major projects in violation of the Environmental Assessment Act and then asked the agency to rule retroactively that the projects did not have to be assessed." Read more.
---
Trans Mountain pipeline expansion 
Part 1: Kinder Morgan and lessons from the Berger Inquiry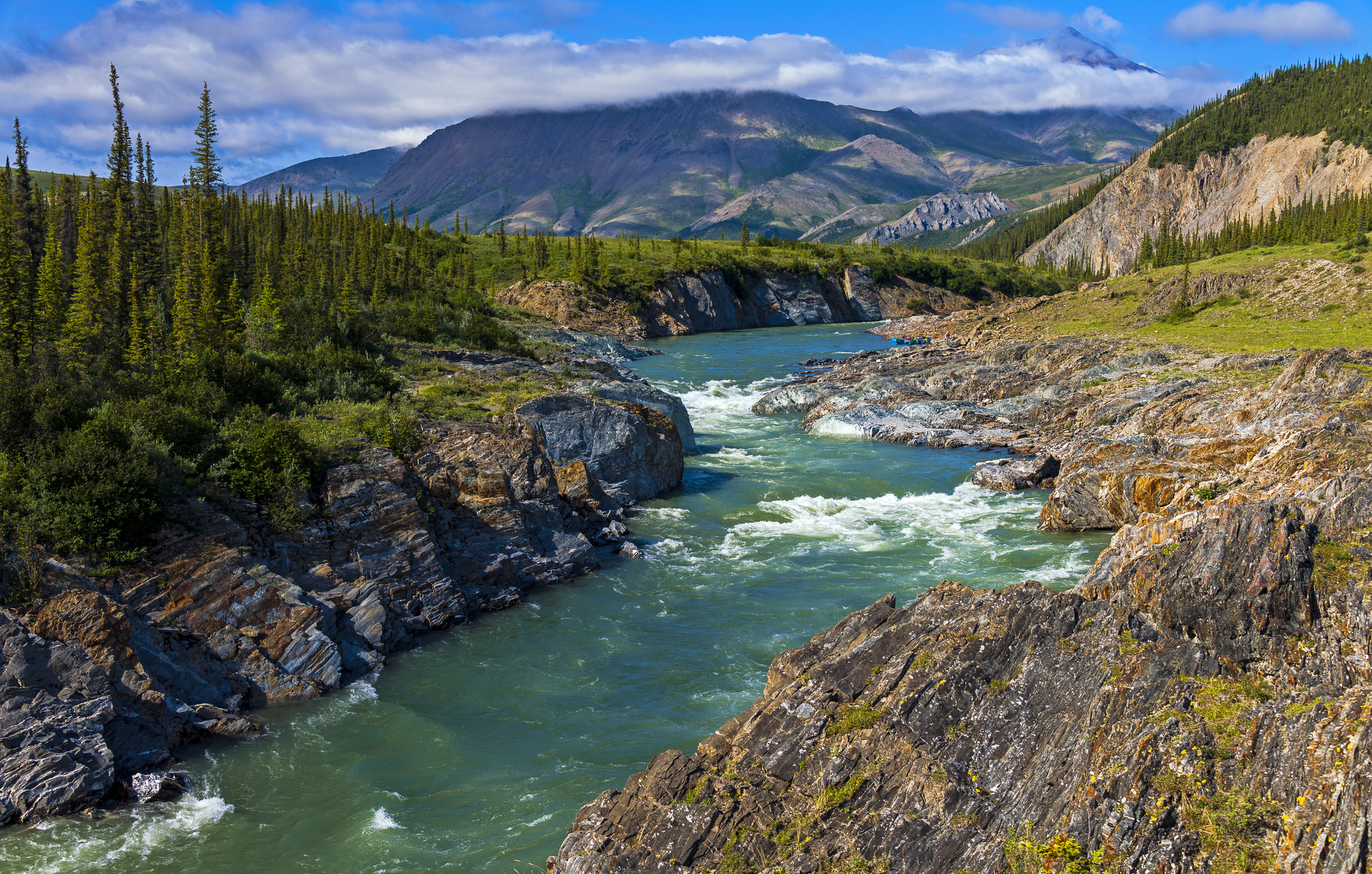 The Berger Inquiry recommended against a pipeline across the Yukon. Instead, it led to the creation of two national parks, protecting areas like the Firth River in Ivvavik National Park. Photo by Daniel Case, Creative Commons licensed.
Canada has a history of knowing exactly how true and genuine consultation with 1st Nations can be done. What's missing today is the political will. Read more.
Part 2: October 23 press conference at the Union of BC Indian Chiefs in Vancouver, as Canada's government tries to force Trans Mountain pipeline through BC. Elizabeth May spoke at the press conference via phone, starting at around 14 minutes in. The audio is somewhat difficult to understand.
---
Stream of Consciousness online conversations
DATE/TIME: November 7, 4-6:30 pm.
LOCATION: Online at Indigenous Perspectives Society: Perspectives to Action.
---
Poetry, pipelines & politics: An interview with Indigenous author Eden Robinson
"Robinson, who's Haisla and Heiltsuk, spoke with journalist Emilee Gilpin at Skwachàys Lodge. In the interview, Robinson spoke about how she navigates the politics of her community, the supernatural world, and working with non-Indigenous editors." The first portion of the interview covers the movie being filmed in Kitimat based on Robinson's book, Monkey Beach. She also discusses her latest novel, Trickster Drift. Watch the video here.
Nationally:
The halibut hook revival
An ingenious Indigenous fishing technology with spiritual significance is making a comeback. Read more.
---
Housing out of a box: Container homes in rural Alberta
"What we're able to offer is something that's different in our community and something for people that have these barriers in finding affordable housing." Read more.
---
…and Calgary tiny home village for homeless veterans sets to open next year
---
Canadian election watchdog terminates Leadnow investigation
Targeting groups like Leadnow and Dogwood – tying them up in nuisance court suits and investigations – is a way of suppressing the vote.
Excerpt: "In 2015, [Leadnow] became the subject of several complaints to the Office of the Commissioner of Canada Elections — the first of which were levied in September 2015 before election day — accusing it of using foreign funds for advertising and to free up cash flow, colluding with third parties and political entities, and failure to report expenses… The process to review the complaints became a three-year ordeal for the organization that sapped its resources and hung over staff's head, said Leadnow's executive director Lyndsay Poaps." Read more.
---
RAVEN: Respecting Aboriginal Values and Environmental Needs
RAVEN's annual Victories Report is out and they're thrilled to share it with you.  "Though RAVEN accomplishes big things — like stopping pipelines, standing up to Big Oil, and hosting transformative dialogues  — our work happens one small step at a time. Across BC, in Washington State, in Calgary and across the world, we are gathering together people who see that supporting Indigenous legal challenges is a practical, tangible thing to do to make the world a better place."
---
Reconciliation: From 'Aboriginal' to 'Indigenous' in the Justin Trudeau era
The October 13, 2018, edition of "Must Reads" contained a link to an article in the Tyee on the language used in a grade 4 textbook and how unconscious racist assumptions can be inherent in seemingly common or innocuous words or concepts. "It was as though a mask of universality covered the true nature of the European-derived concepts, ideas and practices." Now this week, The Conversation has an article by Mathieu Landriault of the University of Ottawa. Landriault is examining how the language used to refer to Indigenous peoples has changed in both the public/political discourse and in the media. This image shows the decline in use of the term 'Aboriginal' and increase in use of the term 'Indigenous' from 2012 to 2018 on national news channels and in newspapers: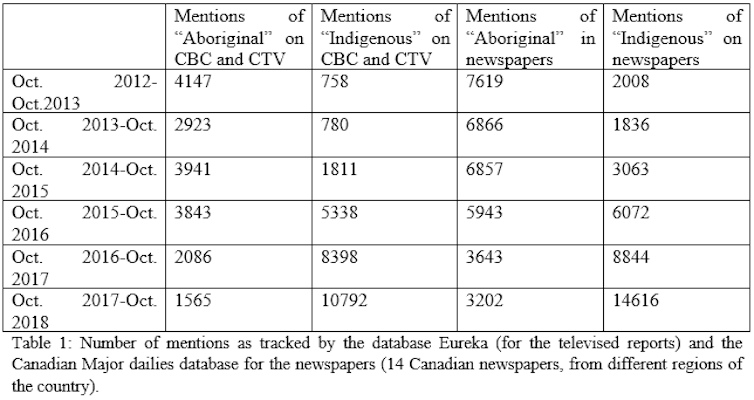 As Landriault acknowledges, though: "Of course, rhetorical changes are about words and language; they are not about enacting policies or investments. I'm not arguing that the Trudeau government must be assessed solely on the basis of this discursive evolution. Nonetheless, using the term "Indigenous" moves us in the direction of the spirit of the United Nations Declaration of the Rights of Indigenous Peoples, which stresses the necessity to foster the principles of equality, partnership, good faith and mutual respect."
While this blog doesn't usually do this, we asked Brenda Sayers for feedback on this article. Brenda Sayers was the 2015 Green Party of Canada candidate for North Island-Powell River, and has a long history of involvement with the Government of Canada on Indigenous issues. Her response was: "I think it has been a long battle to have our voices heard. I think it is silly to consider the use of the word Indigenous has anything to do with the profile of kuu'us. Kuu'us is what Nuu-chah-nulth call ourselves. [The article] gives credit to the Liberal government who have done nothing but undermine our Aboriginal Rights & Treaty Rights after gaining their trust during Trudeau's campaign [in 2015]. There is no credit or mention of the generations of kuu'us leaders, both hereditary and elected, who have died fighting for our peoples' rights. I also think with climate change upon us, kuu'as are receiving more support from Canadians who recognize our rights might be the thing that protects what we have."
---
Literally life and death: Indigenous climate leaders critical of Canada's response to climate change report
"Inuit have been bringing warnings about global warming to the international community as far back as the first Earth Summit in Rio de Janeiro in 1992," ICC Canada President Monica Ell-Kanayuk said in a statement released Tuesday." "Eriel Deranger…noted Green Party leader Elizabeth May was "the only one that came out with reality" in the debate." Read more.
---
New Green Party podcast: People, Politics and Planet, with Jo-Ann Roberts
"In this era of knee-jerk partisanship and decision-based evidence making, the currency of actual ideas has become sadly devalued in Canadian politics. Veteran broadcaster (and Green Party Deputy Leader) Jo-Ann Roberts is changing all that with the new podcast *People, Politics and Planet*, a wide-ranging audio journey through some fascinating political terrain where you'll meet some of the country's most thought-provoking policy innovators. Sure, they mostly lean towards Green — but, as Jo-Ann finds out, that's where the all interesting stuff is happening." In Episode 6: David Suzuki Gets Political, he talks about his own political history, why he left the NDP then avoided party politics and now is campaigning for Greens. He also shares his thoughts on his legacy and whether our species will survive.
Globally
Gay Pride: Trump administration trying to define transgender out of existence
The New York Times reports that the Trump administration is preparing to limit the definition of sex under Title IX in such a way that transgendered individual would, basically, be written out of the law. The definition of sex would be limited to "either male or female, unchangeable, and determined by the genitals a person is born with." Read more.
---
Rio Auction Action
This video, included in the latest Fossil Free News, the online publication by 350.org, finds Brazilians protesting the sale of tracks of ocean to oil companies for exploration.  Taking part in the protest were indigenous Brazilians who will be most affected by the drilling – culturally and economically. Watch the video here.
---
Fixing the climate requires more than technology
Recently, David Brooks, columnist for the New York Times, said that "only technology" was going to be able to save the humanity from civilization-ending consequences of global warming. This article is an indirect response to that, laying out clearly that without government policy, the market will not step up and create the required technology, nor will citizens adopt the necessary technology that will allow us to avert the end of human civilization.
---
In the wake of the IPCC report, this is how we respond to the climate warnings
After the UN's IPCC published its critical report on 1.5 degrees Celsius, thousands sprang into action all over the world. In Australia, Switzerland, New Zealand, England, the Philippines, Nepal, Bangladesh, France, people came out demanding their governments act on this looming crisis.  Read more.
---
Adults in the room: Greens surge across Europe
Is this the Green Wave we've been hoping for? People are waking up to what the Greens have to offer — a real, mature and realistic way of governing ourselves. Read more.
---
EU approves ban on single-use plastics
---
Keystone XL vs farmers and Indigenous peoples
"Communities are building solar power directly in the proposed path of Keystone XL. Watch Indigenous leaders and ranchers build the solutions we need at the third #SolarXL installation in Nebraska. Momentum is on our side and we won't back down." Watch this short video.
---
More on fossil fuel divestment globally
More progress on divestment: Just after Asian movements published a letter urging the World Bank to be more stringent on coal funding, the World Bank has officially ended its support for the last coal mine on their books, in Kosovo. Interestingly, they cited the lower cost of renewables as their rationale. And in California, the city of Fremont passed a resolution on divestment, while a San Francisco pension fund is using the tactic to force companies to change their investment behavior. In New York, new evidence has been published that each pensioner would be almost $20,000 richer had the state fund divested from fossil fuels 10 years ago. That makes them $22 billion poorer altogether. 
---
Youth leading the way
Earth Guardians "are a tribe of young activists, artists and musicians from across the globe stepping up as leaders to co-create the future we know is possible. We are the ones we've been waiting for!" Watch this video on the court case they are bringing in the US – suing the government for failing to act on climate change. Named after Kelsey Juliana, one of 21 youth plaintiffs in the case, Juliana et al. v. United States is an earnest attempt to hold the U.S. government accountable for its environmental policies. The plaintiffs are being represented by the non-profit Our Children's Trust.
This unprecedented case is supposed to go to trial on Oct. 29 — if the U.S. government doesn't manage to thwart it (again).
The case dates back to 2015, when a conservation group called Earth Guardians and the youth plaintiffs — including one Canadian — filed a lawsuit against the U.S. government for their right to clean air, clean water and a healthy future.
The suit is led by 18-year-old Xiuhtezcatl Martinez, an Indigenous musician and youth director of Earth Guardians, who has called it "the trial of our lifetimes." After an almost four-year battle and attempts by the fossil fuel industry and the U.S. government to have the case thrown out, Juliana et al. v. United States was meant to begin in federal court in Oregon on Monday.
The prominence of the case is probably the reason the administrations of both Barack Obama and Donald Trump have tried to stop it from moving ahead. Last week, the U.S. Department of Justice asked the Supreme Court to intervene, saying litigation would put a large burden on the government.
In its response, Our Children's Trust emphasized that Juliana et al. v. United States is "not an environmental case, it's a civil rights case." They argue that through its "affirmative actions in creating a national energy system that causes climate change," the government is depriving Americans of their "constitutional rights to life, liberty and property."
What the plaintiffs are ultimately asking for is that the government take measures to mitigate climate change.
At the time of publication, the Supreme Court had not issued a decision. Observers have pointed out that the Supreme Court's involvement is odd, since the case is being heard in a lower court. Ann Carlson, a professor of environmental law at the University of California Los Angeles, told Vox that it's a sign the Supreme Court "is uncomfortable with the underlying legal theory of the Juliana case." (From CBC's "What On Earth" weekly newsletter)
Thought of the day:
"Money is a mind, the oldest artificial intelligence. Its prime directives are simple, its programming endlessly creative. Humans obey it unthinkingly, with cheerful alacrity. Like a virus, it doesn't care if it kills its host. It will simply flow on to someone new, to control them as well. City Hall…is a framework of programs constructed around a single, never explicitly stated purpose: to keep money safe." (Blackfish City by Sam J. Miller, p. 224)