Must Reads from Last Week
BC Electoral Reform Referendum – OMG! It's going on longer??
The deadline for getting ballots in has been extended to 4:30 p.m., December 7, 2018, due to rotating mail strikes. Here is the link.
---
More important news from Elections BC:
There are some conditions under which a voter can request a replacement package between November 24 and November 30:
if they lost or damaged the voting package they received,

if they made a mistake on their ballot or certification envelope before sending it in,

if their name is incorrect or misspelled on their certification envelope (e.g. former surname), or

if they applied for a voting package from Elections BC before midnight on November 23 and they haven't received it.
To request a replacement package, call 1-800-661-8683 or visit a Referendum Service Office or Service BC Centre (locations are listed at elections.bc.ca/rso).
Locally
Oyster River hermit priest explains decision to preserve land in will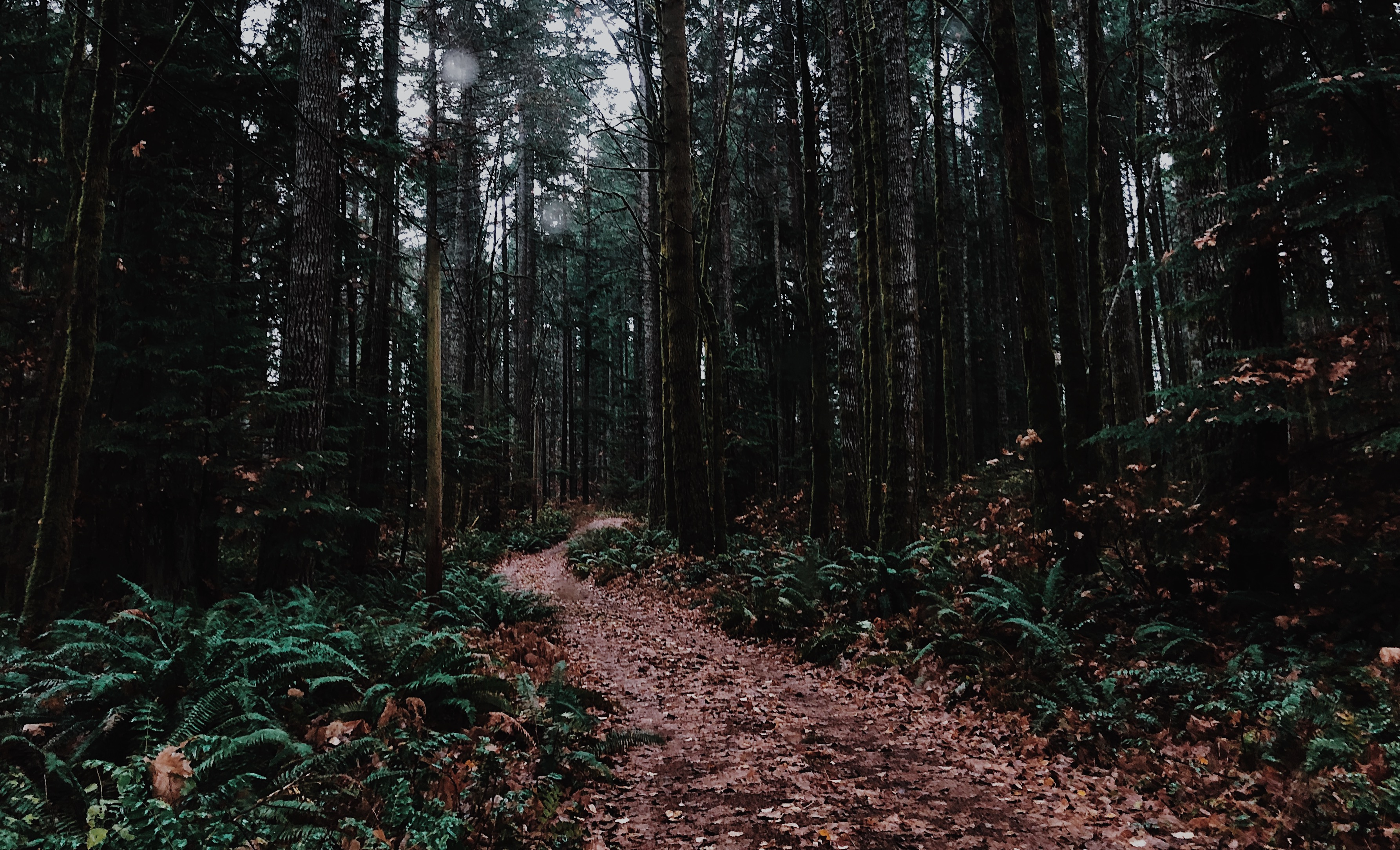 The driveway up to his home, looking back towards the main road. Photo by James Wood/98.9 The Goat/Vista Radio
Excerpt: "We're facing, right now, global warming," said [Father] Brandt. And every tree, decreases global warming, takes out of the atmosphere certain pollutants that create global warming. So, that's a value to everyone, to have a number of trees standing, and plants they can come and see, look at birds and animals." Read more.
Provincially
Kwispaa LNG project moves ahead
The $18 billion project for the West coast of Vancouver Island submits project description to environmental assessment agencies. Read more.
---
Navigable Waters Parliamentary petition E-1601
Nathan Cullen sponsored this petition from "members of Indigenous Nations, residents of British Columbia and supporting citizens of Canada" called "upon the House of Commons to enact a legislated ban on oil tankers in coastal waters including Hecate Strait, Dixon Entrance and Queen Charlotte Sound." This petition received 12,082 signatures, of which 7,770 were from BC.
The petition was presented on October 5, 2018, and the Government has now tabled a response (Sessional Paper No. 8545-421-28). The response is, of course, more of the same double-speak that we hear from Justin Trudeau and Catherine McKenna all the time: "The Government believes that a clean environment and a strong economy go hand in hand and that the protection of Canada's waters and marine ecosystems is of utmost importance." The response references Bill C-48, which just received Second Reading on November 8, 2018. This proposed legislation "also takes a precautionary approach that targets crude oil or persistent oil products that are likely to remain longest in the environment if spilled." However, Bill C-48 only covers "ports or marine installations located along British Columbia's north coast from the northern tip of Vancouver Island to the Alaska border." Of interest, on the Bill's website, you can read the speeches/debate in Parliament on the Bill, and you can see the Committee meeting notes as well. Note that these are not current. In the case of Bill C-48, the most recent is from May 2018, when the Bill was debated in the House.
---
How B.C. destroys a key natural wildfire defence every year
Last week we had links to stories about glyphosate. Here's one more, though in a different context. Read more.
Excerpt: "Last year, 12,812 hectares of B.C. forest was sprayed with the herbicide glyphosate. It's…a mass extermination of broadleaf trees mandated by the province. The eradication of trees like aspen and birch…is meant to make room for more commercially valuable conifer species like pine and Douglas fir. But experts say it also removes one of the best natural defences we have against wildfire, at a time when our warming climate is helping make large, destructive fires more and more common."
---
More on glyphosate in Canada: SumOfUs has a petition to Health Canada
SumOfUs is calling on Health Canada to re-open the registration of glyphosate now, and investigate the decision to renew this registration. Sign the petition here.
---
Woman Warrior: Haida Nation lawyer for the ages: Terri-Lynn Williams-Davidson
This story from The Sealives Initiative profiles Terri-Lynn Williams-Davidson.
Excerpt: "Terri-Lynn's is a life dedicated to the preservation of Haida culture. Not just through legal maneuverings as the General Counsel of the Haida Nation, but also through her art, which includes music, song and myriad visual mediums.  To list her accomplishments and awards in the art realm alone, not to mention her work in the field of law, would require far more space than we have allotted here. If you would like to read more about Terri-Lynn, please see her bio page. You should also listen to her newest album, Grizzly Bear Town, here on Spotify. We were honored to have Terri-Lynn Williams-Davidson (Haida name lalaxaaygans, meaning beautiful sound) agree to a phone call interview with The Sealives Initiative."
Helpful definitions: "…Terri-Lynn explained a couple of important terms to us. She explained that aboriginal law is codified law about aboriginal people, as opposed to aboriginal peoples' law. Aboriginal peoples' law, also known as Indigenous Law, refers to the traditional legal customs and practices which vary with each Indigenous Nation and are a part of their cultural identities. Very few of these laws have been codified, and in fact, may not ever be codified as Western laws have been. [Emphasis added]
Terri-Lynn's specialty, aboriginal-environmental law and indigenous law, lies at the intersection of codified environmental laws and aboriginal laws and seeks to protect the traditional lands and culture of and for indigenous peoples."
---
Metro Vancouver's increasing inequality and division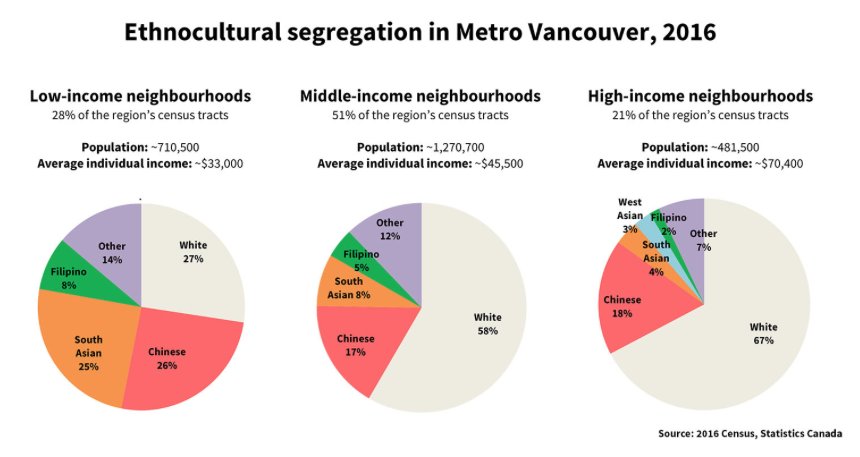 ---
All new cars sold in BC will be zero emission by 2040, Horgan pledges
---
…and Here's what you need to know about that plan
The National Observer takes a dive into the plan. Read more.
Excerpt: "The net effect would be to require an additional 6 Site C's worth of renewable energy development — before even tackling aviation, rail and marine — adding a further wrinkle to the still-raging debate about the wisdom of moving forward with the controversial hydroelectric project. As Vox's David Roberts, who coined the term "climate hawk," compellingly noted, the fight against climate change requires even environmentalists into ugly tradeoffs."
---
BC environmental assessment overhaul marred by deficiencies
"Nearly 180 scientists say impending legislation leaves the task of collecting evidence for major project reviews to proponents — without adequate independence, transparency or scientific rigour… Bill 51, the Environmental Assessment Act, is being studied by a Committee of the Whole House and could be passed as early as this week. One of the main deficiencies of the legislation, according to the scientists, is that it still allows project proponents to oversee, collect and present the vast majority of evidence for environmental assessments." Read more.
Nationally
Elizabeth May's response to Bill Morneau's finance update
---
Compress ignorance into a combustible fuel
On November 17, 2018, the Times-Colonist ran this letter with the above title. You are encouraged to read the whole letter because it is so full of disinformation and misinformation as to be laughable if that wasn't the direction so much of our political discourse is heading in these days. However, the part that struck Megan Ardyche, the Must Reads editor/curator, as funny was this section where the writer hopes that, "Premier John Horgan, B.C. Green Leader Andrew Weaver and federal Green Leader Elizabeth May have a plan for our salvation other than dispensing wildly inaccurate rhetoric to their adoring gaggle of snowflakes, millennials and generic dreamers who cling to the theory it is possible to convert fairy sweat, angel breath, moonbeams and rainbows into usable fuel. One solution would be for someone to invent a carburetor that could compress ignorance and nonsense into combustible vapour."  Megan felt compelled to pen a response to this, which you can read here.
---
Reconciliation: Years after Oka, Mohawk activist says Indigenous people still treated as 'dispensable'
Ellen Gabriel, the voice of the Mohawk people in Kanesatake, reflects on the crisis for As It Happens' 50th. Read more.
Excerpt: "You know, these problems are not problems that we've created — these are problems that have gone under the status quo of imperialism … that if we stand in the way of Canada's prosperity, we're dispensable. When government … only listens to the corporations, not only are Indigenous people in trouble, but the society as a whole is in trouble because we are all experiencing climate change."
---
Who are Canada's most historically significant women?
"When it comes to women's history in this country, most Canadians could use a refresher, according to a recent poll conducted by Historica Canada about the history of women in Canada. Media outlets like the Globe and Mail and Huffington Post picked up its findings and ran stories about how Canadians need to be more aware of their country's historically significant women... By narrowly choosing the type of women to cover through history, we believe media outlets like the Globe — intentionally or not — suggest that these white 20th-century women were Canada's only historically significant women." Read more.
---
Reconciliation: Promised Indigenous rights recognition legislation won't be in place before next election
Read this article and listen to the host of CBC's Power and Politics, Vassy Kapelos, as she speaks with reporter Jorge Barrera about the Liberal government's decision to delay policy changes that affect indigenous land claims. After interviewing numerous First Nations about this issue, the Liberals produced a discussion paper in September for indigenous leaders and bands to review. What stood out to those reviewing the document is that it didn't really address that indigenous people should be leading the revision of lands claims processes, which must be less encumbered by red tape and less expensive than the ones currently enshrined in the Indian Act.  
---
Advocates demand Canada Pension Plan stop investing in prison operators that detain migrants
"Two Canadian advocacy groups are demanding that the Canada Pension Plan divest $8 million in two U.S. companies managing migrant detention centres.…Social-justice organization Leadnow in Vancouver and Toronto-based SumOfUs, a group with the goal of corporate accountability, met with members of the Canada Pension Plan Investment Board's (CPPIB) stakeholder team Wednesday." Read more.
…and this from The Guardian from October. Watch this YouTube video with Charlie Angus questioning Bill Morneau in October, on CPP investments in privatized immigrant detention centres.
---
Manitoba's hydro mess points to Canada's larger problem with megadams
"As most of the Western world moves away from large-scale hydro projects, decommissioning dams across the planet, Canada is digging in with a trio of projects, the costs of which are spiralling out of control…The lesser known Keeyask dam joins B.C.'s Site C dam and Labrador's Muskrat Falls dam on the list of hugely over budget big hydro projects currently under construction in Canada… Laliberte said the global energy market has changed far faster than Canada's politicians realized, as the price of wind and solar energy plummets, new energy storage options become available and the cost of building large hydro dams soars, in part because of hefty payouts to affected Indigenous communities." Read more.
---
Oil vessel off the Newfoundland coast spills 250,000 litres of crude

A leak coming from a flowline to the SeaRose, seen in this file photo, can't be contained until ocean conditions settle, the petroleum board says. (Photo courtesy Husky Energy)
"The spill cannot be contained or cleaned up until waves subside." Read more.
---
…and in 2017, same ship, same company: Investigation shows Husky's decision not to move out of iceberg's path in close call 'economically driven'
The illustration gives an indication of the size and distance, not the direction, the iceberg was in relation to the SeaRose floating vessel. (CBC)
"Husky Energy decided for financial reasons not to disconnect the SeaRose floating production, storage and offloading vessel (FPSO) when an iceberg drifted too close to it last March, according to records obtained by CBC News." Read more.
---
Update as of November 20: This spill is now impossible to clean up
---
Sierra Club Canada is demanding an arms-length investigation into the oil spill off Newfoundland
---
Election 2019
The NDP is in trouble – and that's bad news for the Conservatives
"Conservative Leader Andrew Scheer needs two things to close the polling gap on the Liberals: more swing voters moving back to the Conservatives and more centre-left voters drifting to the NDP." Read more.
---
Newspaper endorsements in the past four elections
---
How to shake up political campaigns, Macron-style
The importance of listening. Get a dose of positive politics with Guillaume Liegey, the organizer behind French President Emmanuel Macron's innovative campaign strategy, who shares his insights into improving politicians' ground games in this recording of The House.
---
Green Party of Canada initiates #RefuseSingleUse campaign
It's part of Oceans Action Week. Sign up here.
---
Food security: Thousands march in Montreal in support of farmers

"The security of a nation depends first and foremost on its ability to feed itself." Read more.
Globally
Saving the world…a pen at a time

Richard Littlemore tries out a fountain pen in the Vancouver Pen Shop on November 2, 2018. Photo by Michael Ruffolo
"It is, admittedly, a ridiculous question. Fountain pens are, themselves, kind of ridiculous – at least as measured by how quick people are to hurl ridicule upon them. Yet, in an age when the ecologically conscious are supposed to be reducing, reusing and recycling, the fountain pen is the perfectly green alternative to firing a spent BIC into the trash every three or four days (unless you lose it or someone lifts it first)." Read more.
---
Alexandria Ocasio-Cortez joins environmental activists in protest

Sunrise activists outside of Pelosi's office in Washington, D.C., on Nov. 13, 2018. Photo: Briahna Gray/The Intercept
"Protesters with the environmental group Sunrise marched on Democratic leader Nancy Pelosi's office on Tuesday. The group, made up of young people pushing for urgent action on climate change, planned to send a clear message to party leadership just one week after Democrats regained control of the House. But this was no ordinary protest for the Sunrise activists, who typically stand on the opposite side of politicians. This time, they were joined by Rep.-elect Alexandria Ocasio-Cortez, who is just weeks away from being sworn into office." Read more.
---
Australian students plan school strikes to protest against climate inaction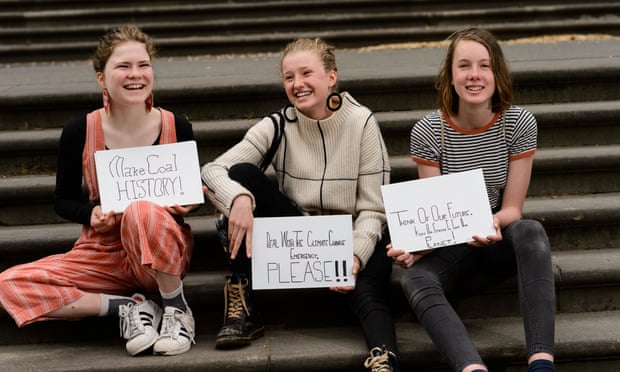 Three Castlemaine student strikers, Milou Albrecht, 14, Harriet O'Shea Carre, 14, Nimowei Johnson, 13, say they cannot yet vote to influence climate policy so they will protest instead. Photograph: Julian Meehan
"They've been inspired by 15-year-old Greta Thunberg, a Swedish student who has been sitting outside the parliament in central Stockholm to draw attention to the fears younger generations hold about the global climate crisis and the failure of countries to take urgent action." Read more.
Days of action for the climate don't seem to be slowing down. In Dhaka, London, Toronto, and other cities, people stood in coordinated solidarity with the Sundarbans, a giant wetland region in Bangladesh that is home to half a million people and directly threatened by a planned coal-burning power station, Rampal. Also last weekend, Montreal saw its biggest climate march, 50,000 people(!), since the historic march on Earth Day in 2012.  And in Barcelona a climate march brought colorful and inspiring imagery to demand the end of fossil fuels. Just days later, Spain's social democratic government set out a new plan to go 100% renewable by 2050, support a just transition for fossil fuel workers, and ban new fossil fuel permits. (From Fossil Free News)
---
Rebellion day:  Over 80 arrested in London climate change protest
"Eco activists gathered in their thousands over the weekend to shut down five of central London's busiest bridges. Crowds of people from across the UK occupied bridges at Southwark, Blackfriars, Waterloo, Westminster and Lambeth for Rebellion Day. Making national press, over 100 "conscientious protectors" were arrested in the name of climate change activism. Contingents – which included everyone from teenagers and young families to pensioners – arrived with banners, flags, musical instruments and sound systems, determined to make some noise and, for many, risk arrest in order to highlight the UK government's damning inaction on climate change." Read more.
---
The big picture: Ancient and endangered forests
"For nearly two decades, the Canadian conservation group Canopy has been consulting with businesses to create, in its own words, "sustainable supply chains and foster innovative solutions to environmental challenges." Canopy recently created ForestMapper, an interactive tool that allows you to see changes in tree cover as well as the animal species found in these parts. The map below highlights the oldest and most vulnerable forests around the world." See the interactive maps here.
---
Policies of China, Russia and Canada threaten 5C climate change, study finds
"China, Russia and Canada's current climate policies would drive the world above a catastrophic 5C of warming by the end of the century, according to a study that ranks the climate goals of different countries. The study, published on Friday in the journal Nature Communications, assesses the relationship between each nation's ambition to cut emissions and the temperature rise that would result if the world followed their example." Read more.
Excerpt: "On the opposite side of the spectrum are the industrial powerhouse China and major energy exporters who are doing almost nothing to limit carbon dioxide emissions. These include Saudi Arabia (oil), Russia (gas) and Canada, which is drawing vast quantities of dirty oil from tar sands. Fossil fuel lobbies in these countries are so powerful that government climate pledges are very weak, setting the world on course for more than 5C of heating by the end of the century."
Related to this story is this website which graphically shows how much global warming each country's pledge is leading to. Holding your mouse over each country tells you what temperature the policies are leading to, if continued as they are currently. The Paris Equity Check looks at five criteria to see how fair countries' climate pledges are. The criteria are indicated as the stars at the bottom of the screen.
---
…and here at home: Natural Resources minister says new pipelines the answer to oil price problems
---
Instant ocean
Biosphere 2 in Oracle, Arizona, was developed with otherworldly ambitions but now may be a key component in the race to save corals. Photo courtesy of the University of Arizona
"I think projects like this are necessary, but it scares me that projects like this are necessary." That's a quote from Jonathan Cybulski, a paleoecologist and marine biologist interviewed for this week's feature. He's referring to a project to breed supercorals able to withstand rapidly changing oceans. Before that work can begin, scientists must bring life back to a simulated ocean where the experiments will take place. It's a fascinating story—how do you replicate an ocean?—and I think you'll find the work of this highly collaborative scientific team inspiring. Like Cybulski, they all probably wish this project wasn't even necessary, but they soldier on, and the world's coral reefs may one day thank them for it. Read more.
If you don't yet know about Hakai Magazine, check it out. Hakai Magazine explores science, society, and the environment from a coastal perspective. The magazine is funded by the Tula Foundation, which also funds the Hakai Institute, but remains editorially independent. Hakai Institute conducts long-term scientific research at remote locations on the coastal margin of British Columbia, including an observatory on Quadra Island.
Thought of the Day