Must Reads from Last Week
BC Electoral Reform Referendum
Quote pick of the day, from York University professor, Dennis Pilon: "There's lots of arguments in favour of our current system - it's just they're not democratic ones. They're great for dictatorships."
Fair Vote Comox Valley and Fair Vote Campbell River are both out talking to voters at events this weekend.
Elections BC reported, as of Friday, that 18% of ballots have been returned. Please ask all your friends and family in BC to send in their ballots. Or better yet, drop them off at their local Service BC centre, due to the rotating mail strikes.
Provincially
The growing pains of BC water law
An excellent article by Gavin MacRae of the Watershed Sentinel, special to Decafnation.
Excerpt: "BC's original Water Act was a relic, drafted when Vancouver was still a fledgling city and before Canada's first airplane took to the skies. It would govern water use in the province for over a century, until in 2016, a long overdue replacement arrived: the Water Sustainability Act (WSA). Conceived after a long period of public consultation, the WSA aims to "address the new challenges of the 21st century, including climate change, population growth and increasing pressure on water resources."
---
… and so, the POLIS Water Sustainability Project is very important
"Anybody, I would challenge them, name me something you think is important, whether you think it's the economy, or local livability (sic), or food systems, or good health — all of it ties back to water. So as a society we better get our water management and water governance right. The stakes are high." Read more.
---
Food sovereignty needed to achieve food security
The Comox Valley is lucky to have Arzeena Hamir, who is now a councillor with the CVRD, who is an expert in food security. Nanaimo is lucky to have Marjorie Stewart, whose column appeared this week in some Island papers. If George Monbiot ("Out of the Wreckage") is correct and the Earth's arable soils only have ten years of productivity left in them, food security is rapidly going to become a huge issue globally. As food becomes more scarce, it's going to become clear that local communities are not able to feed themselves.
---
BC Environmental Assessment Act – Significant changes proposed in Bill 51
---
BC faces lawsuit for two fracking dams exempted from environmental review
---
Fracking fact check
The Watershed Sentinel looks at the evidence on earthquakes, water pollution and health. "In March, the BC government fulfilled an NDP election promise by appointing a three-scientist panel to examine fracking impacts on seismicity and water. Human health and greenhouse gas impacts were excluded from the scope of the study, which is due by December 2018."
---
Climate Law in our Hands: Holding the fossil fuel industry accountable, one community at a time
"All of our communities are already being impacted by climate change, and we have the right to demand accountability from the fossil fuel industry. How do we do it? By taking climate law into our own hands – claiming the legal power and responsibility of our communities to hold the fossil fuel industry accountable." Read more. This web page tracks which communities have voted to send climate accountability letters. You can follow the links to see the letters sent by each municipality. Perhaps this could be an initiative that is led by citizens in our own municipalities.
Nationally
Elizabeth May's Week in Review
Make sure you check out Elizabeth May's Week in Review each week Parliament sits. Not only do you get a rundown on her week in Parliament, but there are links to key moments in the House and Question Period, statements, press conferences, and news reports. The Green Party of Canada has an amazing leader who works incredibly hard. We owe it to her just as much as we owe it to our grandchildren to work equally hard to elect more Greens in 2019.
---
Extremist homophobia in plain sight in Alberta politics
"You've got to think about the common characteristics," [John] Carpay said in the speech. "It doesn't matter whether it is a hammer and sickle for communism or whether it's the swastika for Nazi Germany or whether it's a rainbow flag — the underlying thing is a hostility towards individual freedoms." This blog has had links about "gay conversion therapy;" CBC's The National did a piece on the practice, and one of the hottest new movies is about the issue and its impact on LGBTQ2 youth. Read more.
Carpay later apologized for "unintentionally" comparing a pride flag to swastikas. "He says he meant to stress the need to defend fundamental rights such as free speech, and that slogans touting diversity and inclusion have been abused in ways that undermine those freedoms." Read that too.
---
Election 2019
Can the Conservatives win in 2019 by running against carbon pricing?
An Abacus poll earlier in November "asked respondents a series of questions about climate change, the federal approach to deal with the issue, and what they know and think about the federal leaders and their approach to climate change. Conservative leader Andrew Scheer, has said that his first priority, if he wins the election in 2019, would be to abolish the federal carbon price, signaling an intention to make this a central campaign issue. But today, only 7% say carbon pricing will be the most important issue to them, another 54% say it will be a factor, while more than a third say this policy will play a small role in their voting choice." What is shocking is that they left the Green Party out altogether, except for this one question (image below). Read more.
---
Which leader has the best plan to deal with climate change? Perhaps this answers the question: Demand for action on climate change shatters Scheer's hopes in Quebec
"Tens of thousands of Quebecers took to the streets this weekend to call for more decisive action on climate change. In Montreal alone, 50,000 took part in the demonstration. In the short space of a week, more than 150,000 signed a pledge that commits them to reduce their carbon footprints but also demands more proactive leadership on the issue from governments." Read more.
---
Elizabeth May's keynote address to Scaling Up 2018 this week
---
Renewable Energy
Leader of the Green Party Elizabeth May discusses the impact of fossil fuels and targets that need to be met. Watch here.
---
Plus ça change, plus c'est la même chose
On December 12, 2007, Elizabeth May addressed the Canadian Club of Ottawa. The title of May's speech was "The Climate Crisis: Running out of Time." In the course of her speech, she quotes then UN Secretary General, Ban Ki Moon in the Globe and Mail from that date. He says, "The situation is so desperately serious that any delay could push us past the tipping point beyond which the ecological, financial and human costs would increase dramatically. We are at a crossroad. One path leads to a comprehensive climate change agreement, the other to oblivion. The choice is clear." Watch here.
---
Nuclear energy and climate change
…and here is Elizabeth May again, on why nuclear energy is not the best option going forward in the face of global warming and climate action. (The section on nuclear energy starts at about 10 minutes in.) In the face of an urgent need to move to renewable energy as quickly as possible, as outlined by the IPCC Report, nuclear is too expensive, too slow, and unnecessary.
---
 Federal Environment Minister, Catherine McKenna, in Victoria
McKenna was in Victoria hoping to gain support for the Trans Mountain pipeline. The reception she got was probably a bit uncomfortable for her. Watch here. The questions about the Norwegian Navy ship being rammed by an oil tanker. The Navy ship has essentially sunk, though the oil tanker was not damaged. Read more and more. NOTE: The guy on the bike beside Catherine McKenna is none other than an Esquimalt GPC EDA member, who managed to ride beside McKenna and continue to talk with her for a little while.
---
ACT: Adaptation to Climate Change
This website is a good resource: ACT brings leading experts from around the world together with industry, community, and government decision-makers to explore the risks posed by top-of-mind climate change issues and identify opportunities for sustainable adaptation. There are three workshops coming up:
---
Corporate Capture: Marine protected areas undermined by oil and gas activity
"Protecting Canada's marine and coastal environment has been a significant priority for the government of Canada, however many sites labelled as protected remain vulnerable to industrial activity. Last week, the Canada-Newfoundland and Labrador Offshore Petroleum Board (C-NLOPB) awarded new oil and gas leases within the Northeast Newfoundland Slope Conservation Area, one of the largest conservation areas in Canadian waters, covering 46,833 km2." Read more.
---
Corporate Capture: The rise and fall of Trudeau's 'Grand Bargain' on climate
This article is very interesting; the book, "The Big Stall," is probably much more interesting. It continues the dialogue of Kevin Taft's "Oil's Deep State."
---
Corporate Capture: eBay begs Trudeau to end Canada Post strike
Okay, this one just defies belief. I know it's Christmas package season, but still … Why don't they encourage the Canadian government to settle the dispute, rather than legislate people back to work so that these giant companies don't have angry customers? Read more.
---
Health Canada reviewing studies used to approve glyphosate (RoundUp)
Following on from the link last week to the story of Dewayne Lee Johnson, who won his suit against Monsanto, "Health Canada says in light of "troubling allegations," its scientists are reviewing hundreds of studies used during the approval process for glyphosate, the active ingredient in Canada's most popular herbicide, Roundup." Dare we hope that Health Canada will finally actually do its job, which is to protect the health of people, not protect the profits of corporations. Read more.
---
…and more: The notorious "Monsanto papers" and their role in Canada's approval of glyphosate
Read more. Ecojustice has "called on the Minister of Health to strike an independent review panel to re-consider the decision. As Ecojustice's healthy communities program director Elaine MacDonald said in a recent CBC interview: "We need to know when science is independent, and when science has been potentially influenced by vested interests, such as industry. In this case, these were put forward as independent scientific papers, and what the Monsanto Papers have revealed is that this isn't the case."
Globally
On ecological amnesia: Why we forget the passenger pigeon and the bison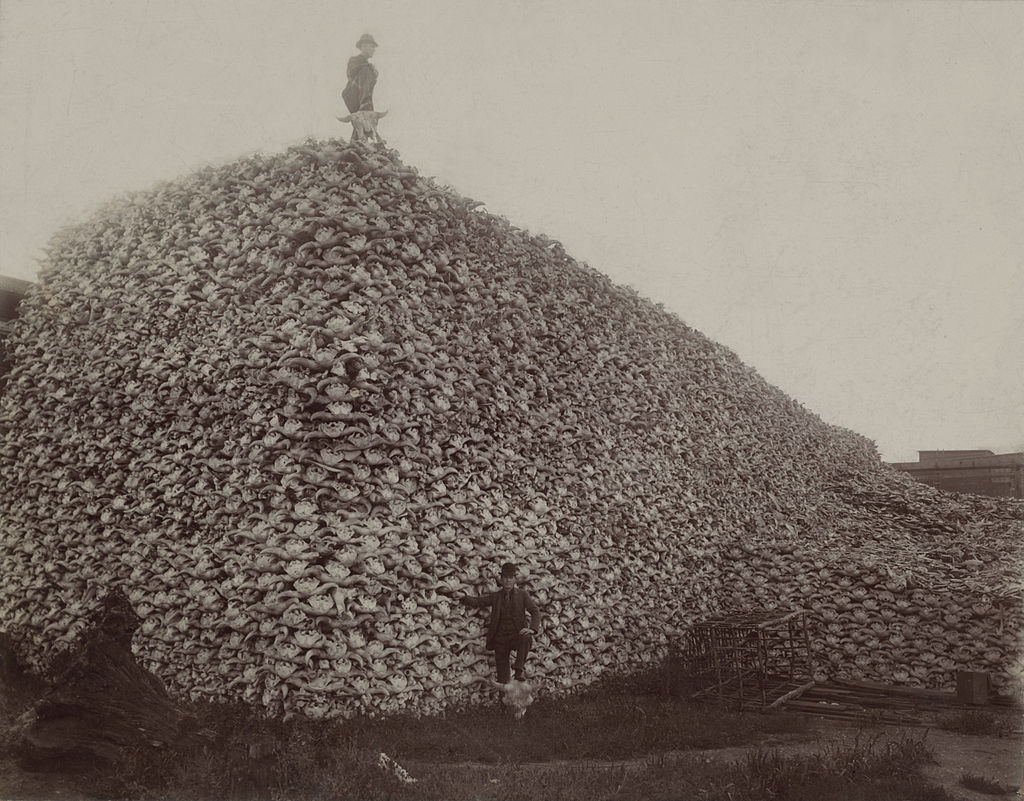 Bison skulls await industrial processing at Michigan Carbon Works, outside of Detroit, in 1892. Photo via Wikimedia Commons.
This is an incredibly moving essay on species extinction and humans' seeming blindness.
Excerpt: "From a distance, both in time and in space, we can perceive these terrible and poignant events for what they were, unmitigated ecological disasters that robbed us and the future of something unimaginably precious in order to satisfy the immediate mundane needs of the present. The luxury of hindsight, however, does little to cure the blindness with which we today overlook deeds of equal magnitude and folly. In a manner that will be difficult for our descendants to comprehend, we drift towards a world in which people take for granted an impoverished environment, transformed by foolish negligence and reduced by expediency to a shadow of the glory that once was."
---
The Green New Deal:  Fixing climate and the economy
Short American video introducing the concept of the Green New Deal as a way to reduce emissions, grow renewable energy sources, increase jobs, and provide a better way to live. 
---
Bologna: The city that rewards you with free beer and ice cream for riding your bike
---
Corporate Capture: Carbon pricing in Washington State
Last week this blog told you about a Washington State ballot measure, Initiative 1631, which would see a carbon fee imposed on fossil fuel emissions. That measure was defeated. Read more.
Excerpt: "The "no" side spent an unprecedented $31 milllion, mostly contributed by the oil industry. Phillips 66, BP America, Andeavor, and the American Fuel and Petrochemical Manufacturers gave a combined $18.8 million to the anti-1631 campaign.
Here's a partial list of companies that gave more than $1,000 to the "No" campaign, reported by The Seattle Times.
PHILLIPS 66 - $7.2 million
BP AMERICA - $6.3 million
ANDEAVOR - $4.3 million
AMERICAN FUEL AND PETROCHEMICAL MANUFACTURERS - $1 million
U.S. OIL & REFINING COMPANY - $558,531
CHEVRON U.S.A. INC. - $500,000
VALERO ENERGY CORPORATION - $495,000
KOCH INDUSTRIES, INC. - $300,000
THE HOLLYFRONTIER COMPANIES - $250,000
CASCADE NATURAL GAS COMPANY - $50,000
BP AMERICA - (in kind) $47,677.63
WESTERN STATES PETROLEUM ASSOCIATION - (in kind) $46,887.08"
---
Fracking for plastics
Last week, DeSmog launched Fracking for Plastics, a new series investigating the connections between the fracked oil and gas rush and plans to expand America's plastics and petrochemical industry in states such as Ohio, Pennsylvania, West Virginia, and New York.
In the series, Sharon Kelly will be exploring this proposed petrochemical build-out in the Rust Belt and the major players involved, along with the environmental, health, and socio-economic implications.
First, Kelly digs into why plans to turn America's Rust Belt into a new Plastics Belt are bad news for the climate. She also created this handy guide to help you navigate the industry jargon along the way.
---
The plastic backlash: What's behind our sudden rage – and will it make a difference?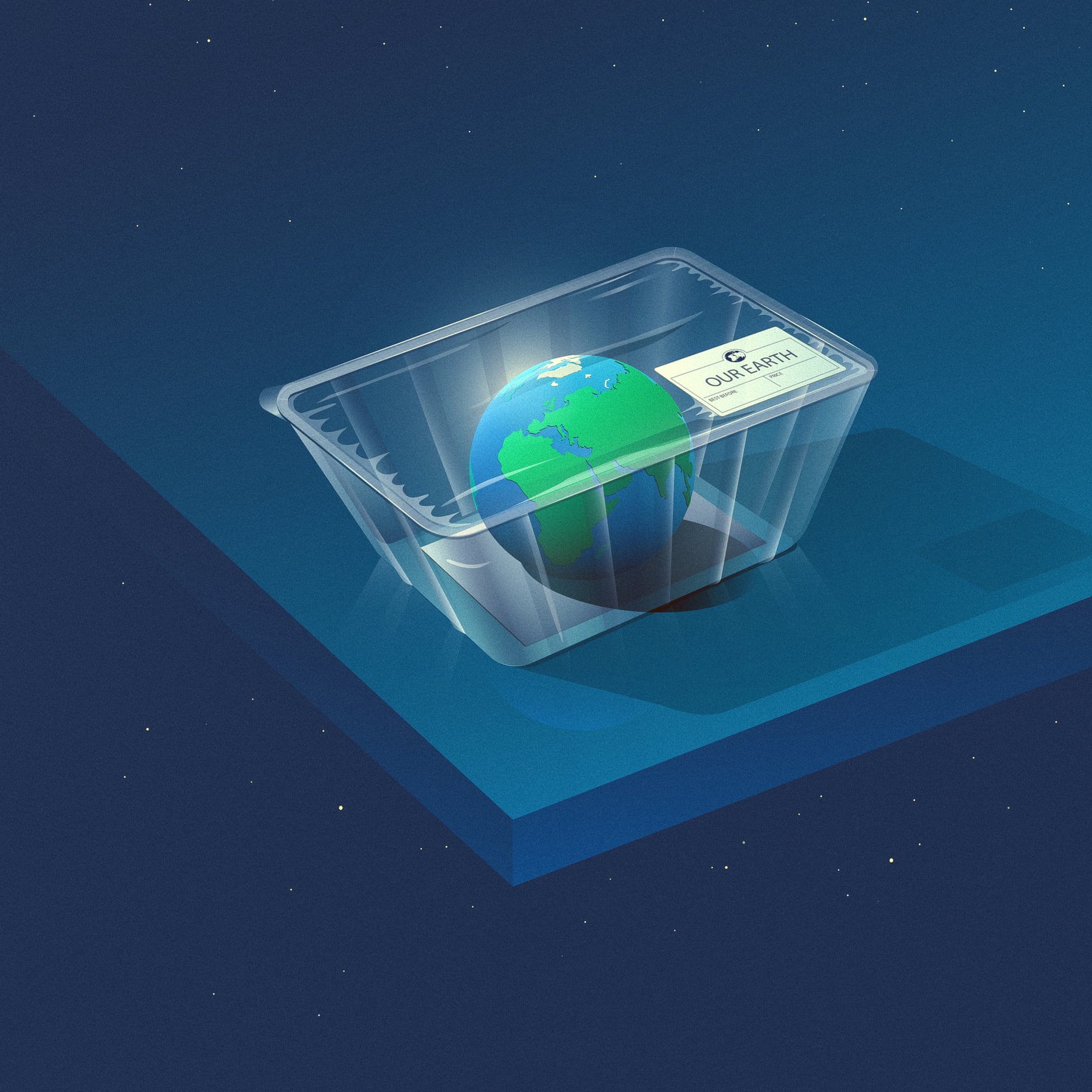 "…plastic made possible the cheap and disposable consumer culture that we have come to take for granted. To take on plastic is in some way to take on consumerism itself. It requires us to recognize just how radically our way of life has reshaped the planet in the span of a single lifetime, and ask whether it is too much." Read more.
---
Anti-immigration, like pro-immigration, is a legitimate political position
As global warming and consequent climate catastrophes increase, the migration of humans will become an ever-growing issue, one which will quickly overwhelm nationalist solutions; in other words, global warming will have global consequences, and dealing with the effects of global warming needs to be global. More immediately, though, the fact that capital can cross national boundaries at will but the human labour force cannot already has huge impacts in terms of economic migration. This is an interesting discussion on both sides of the immigration argument by Yuval Noah Harari, excerpted from his latest book, 21 Lessons for the 21st Century. This will be an important discussion for the 2019 Federal election.
---
…and in the spotlight of that discussion
Look at this Parliamentary petition sponsored by Maxime Bernier. This petition is calling for Canada to follow the US, Poland, Hungary and Austria, to "withdraw from the Global Compact For Safe, Orderly and Regular Migration." As of November 16, this petition has garnered 15,866 votes. Interestingly, Quebec, which is seeing a lot of the "irregular entries" into Canada, has fewer votes than Alberta.
---
The Top 30 Under 30 in Sustainability's class of 2018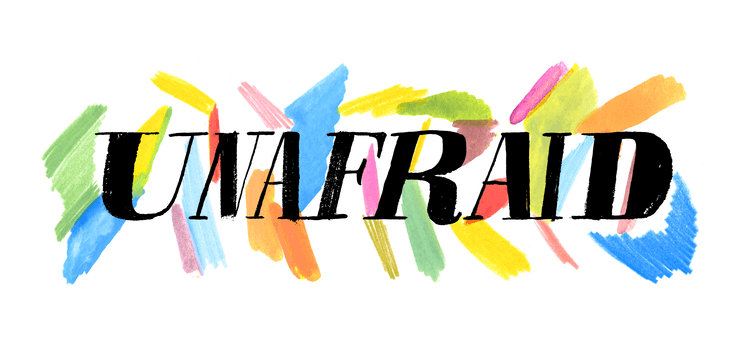 "Our supply of ingenuity … involves both the generation of good ideas and their implementation within society," Canadian scholar Thomas Homer-Dixon wrote in his 2000 book The Ingenuity Gap. Eighteen years after Homer-Dixon warned of the complexity of the 21st century's looming problems, and asked whether humanity could provide enough smart ideas to survive, the need for ingenuity and a readiness to act have only grown stronger…  Corporate Knights…has asked readers to submit nominations for the top 30 leaders in Canada pushing for a more sustainable world. Each time, bringing the number down to 30 has been a challenge." These are truly inspiring young people, and are the leaders of tomorrow. Read more.
---
UK renewable energy capacity surpasses fossil fuels for the first time
"The capacity of renewable energy has overtaken that of fossil fuels in the UK for the first time, in a milestone that experts said would have been unthinkable a few years ago." Read more.
---
From George Monbiot: Suggestions on how to talk about the living world with words that engage people, reveal rather than disguise realities, and honour what we seek to protect: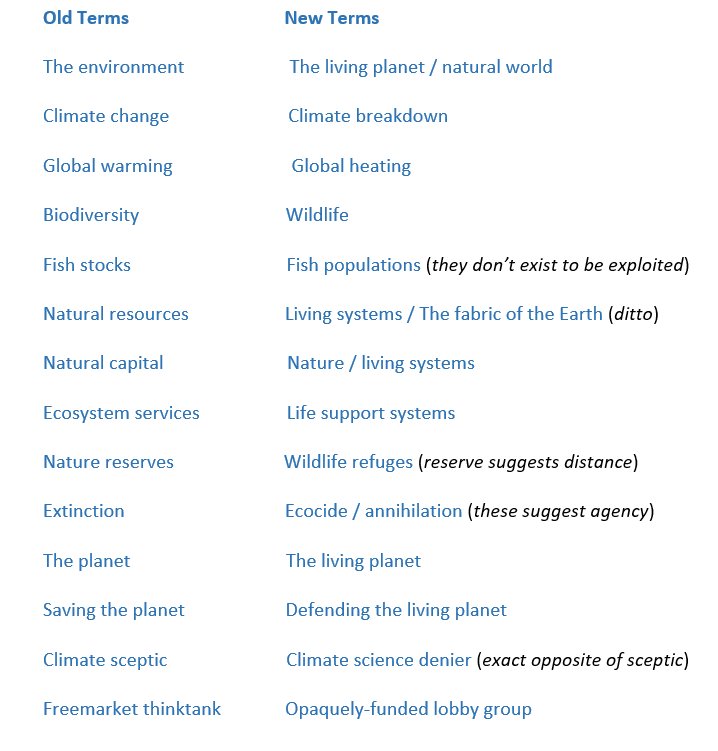 ---
Extinction rebellion? George Monbiot on the politics of climate change
On #NovaraFM, James Butler is joined by Guardian columnist, writer and environmental campaigner George Monbiot to discuss the launch of Extinction Rebellion. What can be done about climate change? Does technology have the answers? Are we heading for certain doom? And what role does narrative have in changing politics? Have a listen. Also check out the Extinction Rebellion website. This is their symbol.
---
Women hating: Social media has elevated misogyny to new levels of violence
When the academic, sister of Mark Zuckerberg, began exploring online anti-feminism, she discovered far-right men's groups were using classical antiquity to support their views.
Excerpt: "[Donna] Zuckerberg found that an active corner of Reddit was applying Hellenistic philosophy to explain the pain and hardship white western men were suffering in the 21st century. Except these men didn't consider themselves angry – they considered themselves oppressed… It is without doubt that social media has allowed this to happen," she says of the toxic moment we're in. "It has created the opportunity for men with anti-feminist ideas to broadcast their views to more people than ever before – and to spread conspiracy theories, lies and misinformation. Social media has elevated misogyny to entirely new levels of violence and virulence." Read more.
Thought of the day:
Respect is one of the best expressions of the spirituality of nonviolence. […] When you have been disrespected for centuries (personally and/or through your ancestors) you either give in and return disrespect, or your respect becomes more radical and universal - as I've seen & felt from so many of the aboriginal spiritual elders. The word for respect in Mohawk is "sheriwakwanisenhstak," pronounced sayreewahgwahniastook. It is a long word, causing us to pause after centuries of disrespect. (From Allow the Water by Leonard Desrochers)