Must Reads from Last Week
Locally
NIPR Green Party candidate nomination meeting
The nomination meeting at which Green Party members in the North Island-Powell River riding will choose their 2019 Federal election candidate is coming up! The NIPR Greens have never had more than one candidate nominee - this is history being made in 2019, folks! Everyone can attend, though only GPC members can vote.
DATE/TIME:   March 10, 2019, 2-4 pm
LOCATIONS: Black Creek Community Centre and Powell River Library (simultaneously).
---
Climate Law in our Hands: Courtenay Council decides to send climate accountability letter
"We're not specifically interested in signing a letter that is adversarial, and so what we're looking to do is actually draft a letter that is more designed to create dialogue and discussion, it's not going to be as adversarial as the one that was presented to us," said [Mayor Bob] Wells." Read more.
---
Kwispaa LNG pipeline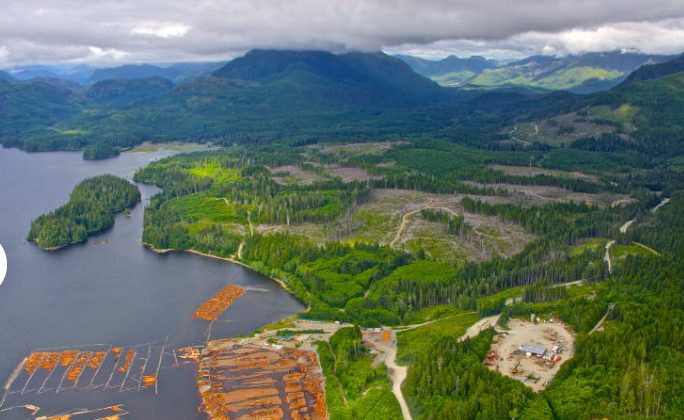 It seems this project may be on hold. Read this in My Comox Valley Now and this from energeticcity.ca. "In a letter posted to the Huu-ay-aht First Nations website, the First Nation says they've received notification that Steelhead LNG has stopped work on the Kwispaa LNG Project." The Huu-ay-aht Nation released an open letter to its citizens on this development.
However, here's one perspective that suggests it was never a serious project in the first place. The upcoming meeting on February 27 should be VERY interesting.
LNG, Fracking, and the Comox Valley Connection
DATE/TIME:  Wednesday, February 27, 2019, 7-9 pm
LOCATIONS: Florence Filberg Centre, Conference Hall
Confirm attendance on Watershed Sentinel's Facebook page
Featuring four speakers and a question period:
Keith Wytton from the Barkley Sound Alliance on Kwispaa, the massive LNG project proposal in Barkley Sound which plans to run its pipeline through Comox (he's from the Port Alberni Regional District)

Richard Wright, Wilps Luutkudziiwus Spokesperson from Madii Lii Center in Gitxsan territory in Northern BC

Michael Sawyer, environmental consultant who successfully appealed a decision of the NEB with respect to the Prince Rupert LNG pipeline and is now appealing the Coastal GasLink

Damien Gillis, journalist and photographer, on the impact of fracking on land and water
For some background on Steelhead, go to Wolfweb.ca. The piece is from 2016 and things have changed in terms of the proposed pipeline route, but Harald Wolf has done some digging into who makes up Steelhead. Here is the organizational chart he created as a result of his investigations. Note the HUGE investment by the Canada Pension Plan Investment Board (our money).
Provincially
Indigenous Green Energy conference
DATE:            March 13/14, 2019
LOCATION: Four Seasons Hotel, Vancouver
"Bringing together First Nations, Federal and Provincial Government representatives, and knowledgeable green industry leaders to build capacity, discuss climate change initiatives, and explore practical Indigenous opportunities in alternative energy and green economics. The Indigenous Green Economy Conference will facilitate the sharing of knowledge and new technologies, and empower First Nations to confidently pursue viable opportunities in the emerging green marketplace, with a focus on nation building and economic development." Read more.
---
Significant Archaeological Finding Pauses CGL Work on Unist'ot'en Territory
"On February 13th, 2019, two stone tools were recovered from the construction site of Coastal GasLink Pipeline Ltd.'s (CGL) proposed mancamp, Site 9A, marking a significant archaeological discovery that indicates a longstanding and continued tie between Wet'suwet'en people and their ancestral territories. Coastal GasLink is legally obligated to stop work in order for a full archaeological assessment to be conducted." Read more from the Unist'ot'en here. On February 15, The Star reported Coastal GasLink had halted work. However, on February 19, the Unist'ot'en are reporting that the provincial government came onto their territory without their consent and removed the artifacts that were uncovered.
---
…meanwhile, Coastal GasLink is going ahead with construction of its "man camps"
A statement from the Unist'ot'en said, "We, the Unist'ot'en (Dark House), do not give our free, prior, and informed consent for Coastal GasLink or any company to establish an industrial work camp on our territories. They create the social conditions for an increase of violence against Indigenous women and children. The culture and work conditions of "man camps" exacerbate isolation, drug and alcohol abuse, violence, misogyny, hyper-masculinity, and racism among the men living there." Read more.
---
Trans Mountain pipeline
Part 1: Cabinet expected to extend deadline to reconsider pipeline
"Canada's energy regulator will tell the federal government this week whether it still thinks the Trans Mountain pipeline should be expanded, but cabinet's final say on the project's future is still several months away. The National Energy Board is reconsidering the project's impact on marine life, including highly endangered southern resident killer whales, after the Federal Court of Appeal ruled last year that the NEB's 2016 approval failed to properly take into account how the whales would be affected by having additional oil tankers in their waters." Read more.
Part 2: NEB won't consider climate impacts of TransMountain
"Canada's energy regulator, the National Energy Board (NEB), has dismissed a legal motion requesting that it consider all climate change impacts in its latest review of the Trans Mountain oil pipeline and tanker expansion project.
In a decision released on Tuesday, the regulator ruled out the motion from the environmental organization Stand.earth to "meaningfully consider the general impact" on greenhouse gas emissions and climate change associated with oil that would be transported on the proposed pipeline.
A separate NEB panel made an entirely different decision in 2017, requiring a larger evaluation of climate change impacts, during its review of the proposed Energy East pipeline, a project that was later terminated by its proponent, TransCanada." Read more.
Part 3: Statement from Greenpeace on the NEB decision Read it here.
Part 4: Watch/listen to Indigenous leaders on this decision by the NEB
---
Fish farms: More caution needed with salmon farming on the West Coast, federal fisheries minister says
Further to the decision that fish farms must test for the piscine orthoreovirus, and "with scientists deadlocked about the potential risks of aquaculture, B.C.'s salmon farming industry should be shifted out of sensitive wild salmon migration pathways, federal fisheries minister Jonathan Wilkinson says." Now if only he would 'err on the side of caution' on the Salish Sea herring fishery. Read more.
Nationally
Election 2019
338.Canada: Poll analysis and electoral projections
A Green Wave or Wishful Thinking?  Check out 338.Canada. Notice that pollster P.J. Fournier's graphs are a compilation of Nanos, Angus Reid, Forum, Abucus and various other polls (click on the Polls tab), as well as relying on "the electoral history of Canadian provinces and demographic data." As of February 10, four ridings on Vancouver Island look Safe, Likely, or a Toss Up to vote Green, according to Fournier. That's great news for the GPC and Elizabeth May. The not so great news is that the North Island-Powell River riding isn't one of the four (click on the BC tab and click again on Northern BC sub-set).  Still, there's a positive:  the NIPR riding is currently tracking at 14%, which is a significant jump from the 8% garnered by the Greens in the riding in 2015.
Part of the challenge facing the NIPR Green Executive is how much area (57,911 square kilometres) any NIPR candidate must cover in order to get the GPC message out to the electorate. And that takes money.  The GPC does not accept donations from business, large or small, or unions. The GPC relies on $10 bucks here and $20 there to help get the Green message out to people in Port Hardy, Port McNeill, Sayward, Tahsis, Gold River and Woss.
The NIPR riding of the GPC relies on YOU. Here's a relatively painless way to support NIPR:  Sign up to donate $15 each month which can come right out of your chequing account. Think of it as helping NIPR's candidate to hit the road and knock on as many doors as possible in the riding.
---
The Trudeau Liberals and omnibus bills
---
Elizabeth May in an interview on CTV
May talks on various topics, from the SNC-Lavalin scandal to partisan politics (May called Scheer 'malevolent' at one point), to the Green Party winning seats in October to the Liberals' carbon tax plan to Energy East pipeline to building refineries in Canada, using Canadian oil. Watch/listen here.
---
Ontario introduces carbon tax after railing against carbon taxes
"The Doug Ford government in Ontario is introducing a carbon tax on large emitters that exceed a yet-to-be-established provincial standard, after launching a lawsuit against the federal floor price on carbon and deliberately gutting the province's most affordable pathways to a sustainable economy. Under a plan that is open for consultation until March 28, the province's proposed "compliance units" will cost C$20 per tonne this year, rising to $50 per tonne by 2022, the Toronto Star reports. That's a progression drawn from a pan-Canadian climate plan that Ford and his ministers used as a day-to-day foil in last year's provincial election, and have happily scorned at every opportunity since. This proposal raises an important question: Why is Ontario fighting a price on carbon one day, and proposing one the next?" said Sarah Buchanan, clean economy program manager at Environmental Defence. "What Ontario really needs is a system that is consistent and effective at reducing emissions, not months of posturing, legal battles, and uncertainty around which rules to follow." Read more.
---
Facts, values and the true cost of environmental harm

Mimi Lam, Vancouver
"Dr. Mimi E. Lam is out to prove that for people, some things are more important than money and not just in the philosophical sense. It's a principle that she thinks should be built into our decision-making and our economy at a structural level, and that if it were, the world would be a better place." Read more.
---
Oil and gas industry rewards fossil fuel growth at its peril
"Canadian oil and gas companies are rewarding their executives with bonuses if they expand fossil fuel production despite the global economic and environmental realities. And they are far from alone. Worldwide, researchers found that 92 per cent of incentive schemes they analyzed reward executives that way. All of which has that Upton Sinclair quote lodged in my head: "It is difficult to get a man (sic) to understand something, when his salary depends on his not understanding it.""
---
Study says oilsands assessments marred by weak science
"Dozens of oilsands environmental impact studies are marred by inconsistent science that's rarely subjected to independent checks, says a university study…In 30 different assessments filed between 2004 and 2017…each study considered different factors in different ways. Few independently checked their conclusions. And those who did were notably less confident about the industry's ability to restore what it had disturbed…the inconsistent approach means the resulting tens of thousands of pages piled in the offices of the Alberta Energy Regulator reveal little about the overall health of one of the most heavily industrialized landscapes in Canada." Read more.
---
Metis receive 50% stake as Alberta announces three new, subsidy-free solar farms
Now THIS is how to Keep Canada Working! "Alberta will double its solar capacity and save C$3.9 million per year after commissioning 94 megawatts of new generation under a 20-year contract with Canadian Solar Solutions and Conklin Metis Local 193, which has a 50% equity stake in the project." Read more.
Globally
Reconciliation: An uneasy alliance: Indigenous traditional knowledge enhances Western science
This is a fascinating article about how traditional knowledge and "science" can complement each other, and how science is seldom an absolute but rather is rooted in its time and culture. Read more.
Excerpt: "As an archaeologist, I research the intersection of western and Indigenous ways of knowing the world. I have found that these seemingly different knowledge systems sometimes complement and sometimes contradict each other. I have learned that Indigenous people's understandings of the world include knowledge gained through scientific methods."
---
US Court throws out "racketeering" suit against Dakota Access pipeline opponents
"A North Dakota federal judge dismissed Energy Transfer's racketeering lawsuit against Greenpeace and all its co-defendants in a sharply worded ruling issued today, finding that the pipeline builder's allegations fell "far short of what is necessary to establish a [racketeering] claim. In August 2017, Energy Transfer filed a Racketeer Influenced and Corrupt Organization (RICO) Act civil complaint against Greenpeace and other environmental groups who had opposed the company's Dakota Access pipeline, claiming that the protests had caused $300 million in damages (and requesting three times that amount from the defendants). Today's ruling flatly rejected Energy Transfer's claims. Donating to people whose cause you support does not create a RICO enterprise," District Judge Billy Roy Wilson wrote in a terse 12-page opinion dismissing all state and federal claims in the suit. "Posting articles written by people with similar beliefs does not create a RICO enterprise." Read more.
And here is Greenpeace's statement on that decision.
---
Europe bans single-use plastics
"The European Parliament voted 571-53 in favor of the single-use plastics ban. The ban is wide-ranging and will have a major impact on consumers and retailers alike. Erin Simon, director of sustainability at the World Wildlife Fund, said the ban is cause for celebration — and caution." Read more.
---
Cost optimisation driving renewable energy adoption at African mines
"After various projects have demonstrated the value of renewables for reducing diesel, heavy fuel oil and gas consumption, mining companies can now benefit from the significant cost reduction potential that renewable energy holds, according to a new report by THEnergy and Voltalia." Read more.
On the theme of mining, here is GPC's Vision Green on the topic: "The Green Party of Canada acknowledges the vital importance of the mining industry.  We support mining where it does no lasting harm to the environment and the ecosystems that living things rely on. Mining is necessary and mining can be destructive, but greener mining is possible.   The Green Party of Canada believes it is possible to extract minerals for human use with minimal harm to the environment and other species."
---
Glyphosate/Aquatic herbicides
We recently told you about the burgeoning market for aquatic herbicides. If you want to delve a little more deeply into that particular segment, read this report on the global aquatic herbicides market. The report includes, "main players, analysis, size, situation of the business, SWOT analysis, and best patterns in the market…."
---
A global update on banks walking away from coal, from Fossil Free News
Rapid death of coal: There's been a cascade of banks backing out of big coal projects since I last wrote. In Japan, a massive coal-fired power plant planned for Chiba prefecture, across the bay from Tokyo, has been abandoned. Campaigners estimate the decision will avoid 12 million annual tons of CO2 emissions. Now they're working to ensure a liquified natural gas (LNG) plant doesn't get put on the same site. Meanwhile in British Columbia, Canada, a planned coal port that would have shipped coal over to Asia to be burned was rejected, after years of protest. And 2 more coal plants that were the sites of local resistance were defeated last week in Turkey and Australia, where a stinging court judgement cited the carbon budget and climate change.
In South Africa too, a series of banks are walking away. First, Nedbank announced they'd stop funding coal altogether, notably pulling out of Thabametsi and Khanyisa plants. Then FirstRand Group quickly followed, dropping Thabametsi. This momentum suggests the Development Bank of South Africa (DBSA) and ABSA, the last commercial bank on the project, might follow suit soon. You can help: add your voice to the call for the DBSA to say no to coal. In Quezon, just southeast of Manila in the Philippines, people are standing strong and pushing back against local government's unquestioning approval to fast track more coal projects in the region. This 3-minute video shows all you need to know.
---
It's going to be Tremendous: Living with optimism in a time of change
This new podcast has an initial pilot of 4 episodes, starting on December 12, 2018, the three-year anniversary of the Paris Agreement. After the 4 episodes, they will assess whether to make it a long term thing.
The pilots can ONLY be accessed through this website. Once you have downloaded it, you can play it in iTunes or whatever app you normally use for podcasts, or you can listen in your browser.
To listen to episode 1 in the Browser:
Pilot Ep. 1: Everything to Play for (President Alverado)
To listen to episode 2 in the Browser:
Pilot Ep. 2: It's going to be Tremendus (Jane Goodall)
To listen to episode 3 in the Browser:
Pilot Ep. 3: It's going to be… nicer and more peaceful in cities (Nigel Topping)
To listen to episode 4 in the Browser:
It's going to be… up to all of us (Greta Thunberg)
---
Green Good News: 22 Inventions that are saving the Earth
Humans ARE endlessly inventive and creative. Watch these ideas.
---
New Zealand's Whanganui River has been granted the same legal rights as a person
This article is from 2017, but it's astonishing. ""I know some people will say it's pretty strange to give a natural resource a legal personality," Treaty Negotiations Minister Chris Finlayson said, according to Newshub. "But it's no stranger than family trusts, or companies, or incorporated societies." The Indigenous Whanganui Iwi people have been fighting for this for the past 140 years.
…and on this side of the world, voters in Toledo, Ohio will decide on legal rights for Lake Erie
"The failing health of Lake Erie, the world's 11th largest lake, is at the heart of one of the most unusual questions to appear on an American ballot: Should a body of water be given rights normally associated with those granted to a person? Voters in Toledo, Ohio, will be asked this month to decide whether Lake Erie, which supports the economies of four states, one Canadian province and the cities of Toledo, Cleveland and Buffalo, has the legal right "to exist, flourish, and naturally evolve." The peculiar ballot question comes amid a string of environmental calamities at the lake — poisonous algal blooms in summer, runoff containing fertilizer and animal manure, and a constant threat from invasive fish. But this special election is not merely symbolic. It is legal strategy: If the lake gets legal rights, the theory goes, people can sue polluters on its behalf." Read more.
---
Canada supports global 'recycling' even as its trash sits in the Philippines

Workers segregate garbage at the Material Recovery Facility near Manila on Feb. 21, 2013. The sorted recyclable materials are sifted by machine shredder which are then compacted, and wrapped with plastic and convert them into bales, where they are bought by companies to be used as alternative burning fuel.
"Canada will not sign on to an amendment to an international treaty that could bar three dozen countries from shipping any kind of garbage, even recyclables, to the developing world. The amendment to the Basel Convention that puts limitations on shipments of hazardous waste was proposed more than 20 years ago but has resurfaced in Canada recently as scores of shipping containers with rotting Canadian garbage sit in ports in the Philippines. The 103 containers were sent to Manila in 2013 and 2014 labelled as plastics for recycling but Filipino authorities discovered they actually contained household waste including adult diapers, food and electronics." Read more.
---
Avaaz fundraising on Donald Trump's absolutely mind-boggling assault on facts
We hope you'll forgive us for actually having Donald Trump in this blog. This piece is from September 2018, so the numbers it uses for Trump's lies are sorely out of date. Well, Avaaz is starting a campaign to use Trump's tweets against him. Check out this donation page. For 13 cents per tweet to a maximum of $4 a day, you can help fund the fight against disinformation.
Thought of the day:
"Those who are too smart to engage in politics are punished by being governed by those who are dumber." (Plato)