Must Reads from Last Week
BC Electoral Reform Referendum
Youth reject big media disinformation on PR Referendum
Throughout this referendum, "big media has been able to sow considerable confusion, but what has been the effect on the younger generation?  According to a recent poll, despite all the big media disinformation over the last year, 53 per cent of youth between the ages of 18 and 34 are likely to vote for proportional representation while only 22 per cent say they will likely vote for the existing First Past the Post (FPTP) system. Whatever the eventual outcome of the referendum, this is a stunning repudiation of big media, as well as the No side." Read more.
LOCALLY
Campbell River – Drinking water protection
The Campbell River Environmental Committee (CREC) started a change.org petition to BC NDP Minister George Heyman, calling on the government to "legislate enforceable and mandatory landfill siting restrictions in the Environmental Management Act." This petition is regarding Upland Excavating Ltd's Application to deposit Non-Hazardous solid waste and contaminated soil and treat the leachate, across from McIvor Lake, Campbell River's drinking water. Please sign the petition and share with friends.
---
Merville – Water protection
Many of you are aware of the Merville Water Guardians and the fight to stop a request for rezoning in order to bottle and sell water from the local aquifer. The Merville Water Guardians have now started a Leadnow petition to the BC government to protect BC groundwater from commercial interests. Read and sign here.
---
Can green innovations stop polluted stormwater from killing our waters?
"…every time it rains after a dry period, it's as if a giant toilet flushes animal feces, fertilizers, pesticides, oils, road salts, heavy metals and other contaminants into our municipal stormwater systems, which in turn send torrents of polluted water directly into our watersheds, killing fish, eroding property and making our waters unsafe for shellfish harvesting." Read more.
---
Comox Valley – 100 Women who Care

A new group is starting in the Comox Valley and is looking for its first 100 members. "Inspired by the various 100+ Women Who Care throughout Vancouver Island, and all over North America, we wanted to contribute to this incredible organization by forming a group in the Comox Valley. 100 Women Who Care was started in 2006 and with now approximately 500 Chapters across North America, they are all able to contribute and give back to their community. The premise behind 100 Women is that four times a year a local charity is chosen and the individual members send the chosen charity $100 each. If we have 100 members, that will be $10,000 donated! To learn more about the history of this organization, visit: www.100whocarealliance.org." As well as the 100 Women who Care, there are also groups for 100 Men Who Care, 100 People Who Care, 100 Businesses Who Care, and 100 Kids Who Care groups. To see the list of chapters in Canada, check here.
Campbell River has a chapter. See this article in the Campbell River Mirror from March 2018, when they formed their chapter. Powell River also has a chapter.
---
Powell River event: How waste affects our carbon footprint
DATE/TIME:  December 8, 2018; 2-4 pm
LOCATION:    Elm Room, Recreation Complex, Powell River 
Details: The Trash Talk team will enlighten us all on how to contribute to the zero waste effort. They will talk about the why of it all, and ways to eliminate waste by wise resource management. The presentation will involve about one hour of lecture, demonstration, and power point, followed by a question period and group discussion. CAPR enthusiastically invites all comers.
Provincially
Fact checking Premier Notley: False oil price narrative used to scare Canadians into accepting Trans Mountain expansion
Alberta Premier Rachel Notley is aggressively advancing a false narrative about heavy oil's deep discount. She presents the problem in two parts, neither of which stand up to scrutiny… Not only is Notley's — and now Trudeau's — $80 million a day deep discount narrative fundamentally flawed, the claim that only Trans Mountain's expansion can solve it is also simply untrue." Read more.
---
Coast Salish tribes oppose Trans Mountain pipeline expansion
U.S. Tribal representatives will speak alongside First Nations at press conference and before Canadian National Energy Board. Read more.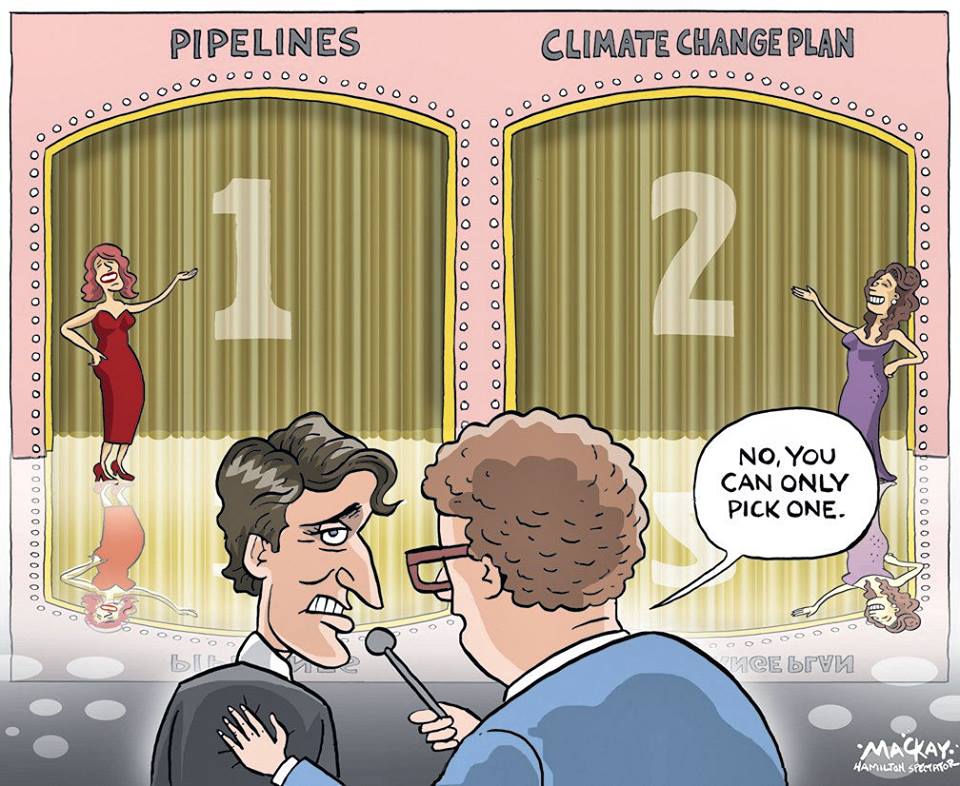 So many mistakes with Trans Mountain pipeline redo
"Tell me if you've heard this one before: the National Energy Board (NEB) is rushing through a pipeline review with a compressed timeline and narrow scope, where it sides with the proponent more often than not (despite tremendous opposition by intervenors), and excludes the public from "public" hearings. Huge volumes of evidence are filed by the proponent in what appears to be an attempt to overwhelm and paralyze participation in the already limited timeline." Read more.
---
Warning: Explicit language ahead:

How fast can we get to 100% renewables?
"The overarching question we should be asking ourselves is how fast we can get to 100% renewable energy and not just for electricity, but for home heating, transportation and industry. This is the central theme of Mark Jacobson's work: how to power the world with renewables—without tricks like nuclear power, carbon capture or biomass—just wind, water and solar (WWS) technologies. It's a compelling message for an era that continues to seek more fossil fuels to dig out of the ground. Mark's work tells us there is another way to meet our energy needs without undermining the future, one that is better for our health and produces more jobs than the fossil fuel industry." This piece includes Jacobson's Rosenbluth lecture.
---
Reclaim Alberta
"Many of us heard about Alberta's looming oil liability crisis for the first time last week, but Regan Boychuk of Reclaim Alberta has been working on this problem for YEARS. He has a plan to make sure polluters don't get off the hook for cleaning this up. One that will create green jobs and make sure Indigenous nations have control over what clean-up looks like." Last week Regan participated in this webinar, along with Katie McKenna and Avi Lewis of The Leap, to talk about the plan and how we can get there. Listen here.
---
True, Lasting Reconciliation
Implementing the United Nations Declaration on the Rights of Indigenous Peoples in British Columbia law, policy and practices. "Implementation of the United Nations Declaration on the Rights of Indigenous Peoples is a central political and public policy issue around the world. The BC government has committed to fully adopting the UN Declaration and this ground-breaking report, for the first time, outlines what implementation could and should look like in BC law, policy and practices." Download the report here.
Globally
To watch online, go to www.facebook.com/senatorsanders at 7 PM ET on December 3rd.
Details:  U.S. Sen. Bernie Sanders will host a national town hall on Monday, Dec. 3, aimed at addressing the global threat of climate change and exploring solutions that can protect the planet from devastation and create tens of millions of good-paying jobs. Sanders will be joined by 350.org founder and author Bill McKibben (see the link to his interview on CBC's The Current); actress, activist and Our Revolution board member Shailene Woodley; CNN host and author Van Jones; Congresswoman-Elect Alexandria Ocasio-Cortez (D-NY); Earth Guardians Youth Director Xiuhtezcatl Martinez; Union of Concerned Scientists Director of Climate Science Dr. Brenda Ekwurzel; Dale Ross, mayor of Georgetown, Texas; and Dr. Camilla Bausch, President of Ecologic Institute. This event is being presented in partnership with NowThis, ATTN:, The Young Turks, The Years Project, The Intercept, The Nation, The Guardian and Act.tv.
---
Solar panels that can pull clean drinking water out of the air
Being able to provide water in dry areas will go a long way to alleviating global warming pressures and consequent climate refugees. "Around the world, approximately 2.1 billion people do not have immediate access to clean drinking water. A startup called Zero Mass Water aims to make clean water easily accessible to more people around the world. In 2015, it launched its first product, Source — a solar panel array that harvests and filters water from vapor in the air. The company has installed the devices in 11 countries, including Chile, Jordan, Peru, and the US, where it became available in late 2017." Read more.
---
An oasis of open water: Inuit in Canada and Greenland want to protect an ecological wonder
"…today, the Pikialasorsuaq is changing. The balance of forces that create the polynya may tip under the weight of climate change, and the warming ocean threatens to transform this remarkable ecosystem. The economics of the area are shifting, too, and the region could soon see more shipping, tourism, and resource extraction. As Inuit residents brace for these possibilities, they are asking the governments that manage the polynya…for greater control. The Inuit Circumpolar Council (ICC) has launched an initiative to establish an Inuit management authority for the area. It would give locals more sway over conservation and development decisions, and put them at the center of scientific monitoring and management efforts here. After decades of being sidelined on matters from where they can live to how they hunt, they want a stronger voice in shaping the future of the polynya, even if that future is uncertain. 'It's our own place, we live here…It's only right that we have a say.'" Read more.
---
How poor communities pay for our holiday shopping with poor air quality
"I'm not the biggest fan of Black Friday. I personally don't like how people don't realize how it affects these lower income communities that have to work to ship their products." One of the effects he points to is the emissions that come from all those diesel trucks and planes moving goods in and out of the region." Read more.
---
Ireland joins France, Germany and Bulgaria in banning fracking
Read more. This website, Keep Tap Water Safe, has a list of fracking bans worldwide. It seems the latest update there is from July 2018. And DeSmog has a great article/photo essay on impacts of fracking in Texas.
---
The prickly intersection of protein sources and global warming: Why are fish consistently left out of the equation?
"Fish are a highly nutritious and, in many cases, a very sustainable source of protein. Following the release of the latest climate change report by the International Panel on Climate Change (IPCC), many are talking about reducing their meat — and therefore protein — consumption. For some reason, fish and other seafood are repeatedly left out of conversations about how to build more sustainable and climate-friendly food systems." Read more.
At the basis of this article is the concept of the "sufficiency economy." (Our apologies for using a Wikipedia source.) This was developed in Thailand and came to prominence there in 1997. "Sufficiency Economy is a philosophy that stresses the middle path as an overriding principle for appropriate conduct by the populace at all levels. This applies to conduct starting from the level of families to communities and to the nation in terms of development and administration, so as to modernize in line with the forces of globalization. 'Sufficiency' means moderation, reasonableness, and the need for self-immunity to protect from impacts arising from internal and external change. To achieve sufficiency, an application of knowledge with due consideration and prudence is essential. In particular, great care is needed in the utilization of theories and methodologies for planning and implementation in every step. At the same time, it is essential to strengthen the moral fiber of the nation, so that everyone, particularly public officials, academics, and business people at all levels, adhere first and foremost to the principles of honesty and integrity. In addition, a way of life based on patience, perseverance, diligence, wisdom and prudence is indispensable in creating balance and in coping appropriately with critical challenges arising from extensive and rapid socioeconomic, environmental, and cultural changes in the world."
---
Doughnut Economics: A healthy economy should be designed to thrive, not grow
"What would a sustainable, universally beneficial economy look like?" Check out this TED talk by Kate Raworth. Also, here is a longer talk by her, on the same topic. If so inclined, check out this website and join the discussion about these ideas. In fact, the BC Greens have this book as their topic for discussion on December 4, 2018.
---
Bill McKibben, founder of 350.org, on CBC's The Current
Youth would make better leaders in the fight against climate change, says McKibben. He also references First Nations as being leaders in this – especially in Canada. Read/listen here.
---
U.S. Indigenous communities on the front lines of climate change
From hurricanes and pipelines to the bayou, First Nations in the U.S. are standing up more and more. Read more.
Excerpt: "'Organizations with Indigenous leadership have been calling attention to those concerns, whether documented on the EPA website or not, and mobilizing opposition to oil and gas pipeline projects. Climate change makes the challenges we are already facing that much worse — political and economic marginalization, loss of land and resources, human rights violations, discrimination, and lack of access to health care, education, and employment, etc.' Stop Line 3, which opposes a $7.5 billion Enbridge crude oil pipeline project stretching from Alberta to Minnesota, says on its issues page. 'Across the globe, Indigenous people are the most impacted by climate change and the problems it is causing, even though they contribute relatively little to the emissions that are causing it.'"
---
UN Environment's 2018 emissions gap report
"To keep global warming well below 2°C, global greenhouse gas emissions will have to peak by 2020, and decline rapidly thereafter. At the moment, our greenhouse gas emissions show no sign of peaking. In fact, after holding steady from 2014 to 2016, global emissions went up again last year." Read more.
---
Okay, so it's time for a little levity
Watch this and this video for perfect illustrations of the absurdity of deep-sea drilling and transporting oil and oil products by ship.
Thought of the Day